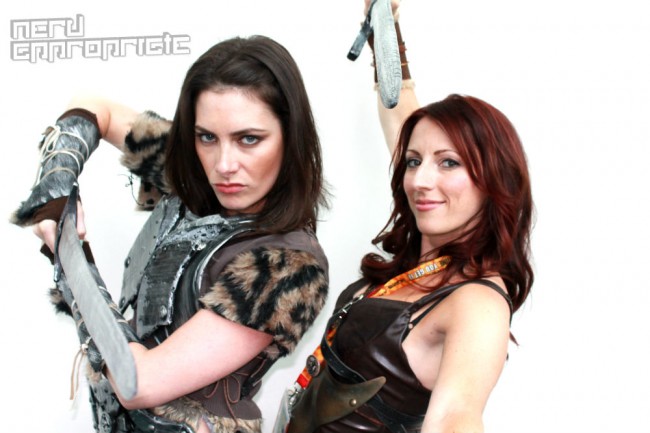 Comic-Con 2012: The Most Dangerous Women at Comic-Con – Panel Coverage
Katrina Hill's "The Most Dangerous Women at Comic-Con" panel was sort of like one of those awesome Marvel Team Up comics you probably read when you were a wee little kid. If for some reason you were deprived of said comics, Marvel Team Up took a few heroes from different books and sent them on a mission they could only accomplish by working together.  While no crime fighting actually occurred during the panel, it did manage to showcase some of the most creative, fun, and entertaining women around. Moderated by the hilarious (seriously) Bonnie Burton, the panel featured the likes of Action Chick Katrina Hill (GeekNation, MTV Geek), Leah Cevoli (Robot Chicken), Holly Conrad (Comic-Con Episode IV: A Fan's Hope), Adrianne Curry (Stan Lee's World of Heroes), Abbie Heppe (Respawn Entertainment), Clare Kramer (Buffy the Vampire Slayer), Kristen Nedopak (Skyrim: To Lydia with Love, Fight Class), Milynn Sarley (GeekNation's Lairs), Stephanie Thorpe (Weird Girls, ElfQuest: A Fan Imagining), and Patricia Tallman (Night of the Living Dead, Babylon 5).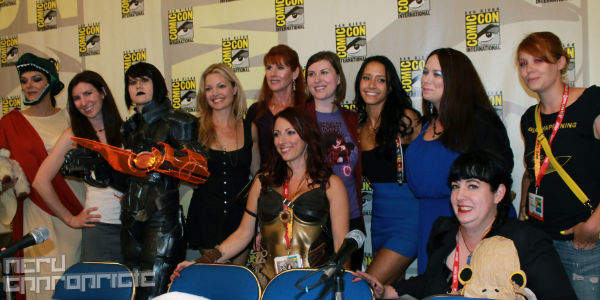 When asked the question "what makes you so dangerous?" the panel answered with humor and honesty. From Abbie Heppe's dreaded CM "ban hammer", to Kristen Nedopak's lady parts, all of the panelists really were "dangerous" in their own special way.    While all of the women on the panel were also very different, they all seemed to have one thing in common, creativity…  These women are working pretty damn hard in order to give us new nerdy things to read, watch, play, and enjoy.
While some gender issues were briefly addressed (like booth babes),  the panel was primarily a vehicle to highlight fun and creative women in the industry and managed to avoid most of the gender controversy that keeps popping up time and time again.  As a married male who has been attending conventions regularly for over a decade, I feel as though there is no clear cut answer to the "booth babe" debacle.  Is it in poor taste to use uninformed models to sell a product to the public?  Sure.  Does sex still sell?  Yes.  Is money important to publishers? Duh.  While I feel models should be wholly absent from industry trade shows like E3, I do feel as though having models who are educated about the product they're representing is a big step in the right direction.  Companies should simply offer an afternoon of training to their staff before they let them step foot on a convention floor.
The panel was an absoulte blast, and one of my favorites of SDCC 2012.  I'm already looking forward to what Katrina Hill is cooking up for next year. Make sure you keep an eye out for Bonnie Burton, Katrina Hill, Leah Cevoli, Holly Conrad , Adrianne Curry, Abbie Heppe , Clare Kramer, Kristen Nedopak, Milynn Sarley , Stephanie Thorpe, and the awesome Patricia Tallman (so good as Barbara), as they're all doing some incredible stuff.