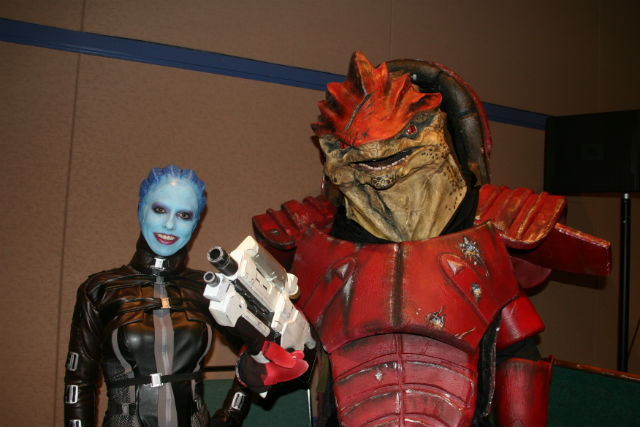 PAX Prime 2011: Crabcat's Costume Non-Contest Brings The Fun
Last evening I made my way into the Unicorn theatre here at PAX (complete with Robot Unicorn attack music on.. loop) to relax a bit and check out Crabcat Industries costume non-contest.  Gotta say, sitting down and laughing a bit was very nice after being on my feet and running around for twelve hours straight.  I suppose I should explain what Crabcat's costume non-contest consisted of eh?  It was pretty simple, every person that wore a costume won a pair of "deal with it" Kanye West glasses as well as their very own title which was decided on the fly (EX: Biggest Staff).  Again, I've never cosplayed a day in my life but I appreciate talent and dedication when I see it.  Some of the costumes were pretty damn incredible.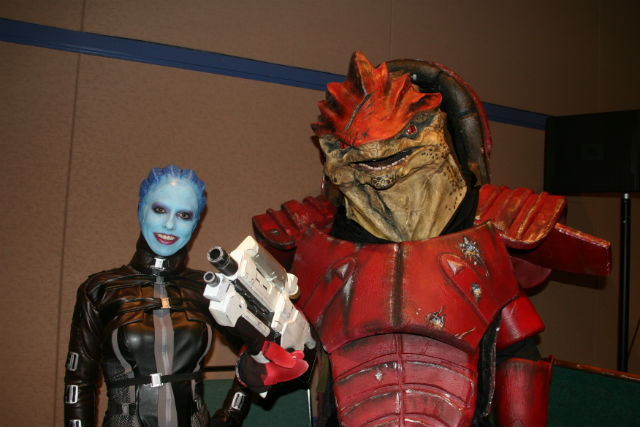 Bioware: For Bioware fans there were a ton of stellar costumes on display including the hulking animatronic Wrex.  Holly Conrad (interview here) sported a new suit of  Mass Effect 3 renegade Shepard armor and did a great job at bringing the funny with some dry humor.  From Gears of War to Pokemon there were over 50 costumes on display.  Crabcat member and new Bioware Community Manager Jessica Merizan did was entertaining on the Mic and will no doubt be a very solid  CM.
 No matter how old you are dressing up in crazy costumes will always be a ton of fun .