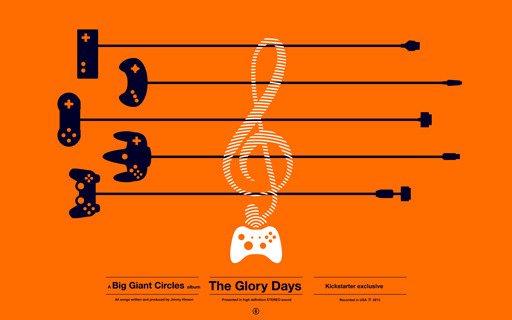 Big Giant Circles: The Glory Days – Support Great Music and Get Great Stuff
Jimmy Hinson, also known as Big Giant Circles, has made some incredible music for video games (Mass Effect 2's Normandy Reborn guys… wow). Jimmy's latest album, The Glory Days, is 20 tracks of delicious chip tune-style goodness currently being funded through a brand-new kickstarter campaign. Unlike a number of other campaigns, the challenging work on the The Glory Days is already complete. That's right, the album is already done.
With the bulk of the work on The Glory Days complete, Jimmy hopes to use the extra funding generated through Kickstarter to produce actual CDs, help with distribution, and admirably, help pay some of the many contributors to the album.
There are all sorts of fun rewards for funding The Glory Days; from pixel-art portraits and t-shirts, to a visit from Jimmy himself. Head on over to Big Giant Circles Kickstarter page and lend your support!