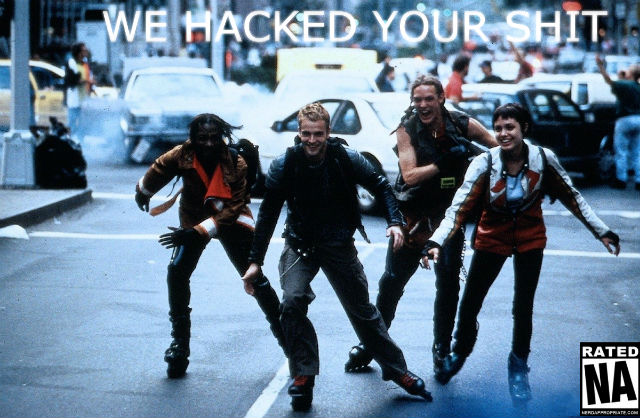 Zero Cool strikes again: Epic Games and Codemasters both have been hacked.
Zero Cool and his band of Roller-Blade wearing hacker-misfits have struck again! The bad news is that within the past few weeks both Codemasters (Dirt) and Epic Games (Gears of War) have had their sites hacked! Ironically, If you tuned in to Cliff Bleszinski's chat on Redban yesterday he stated quite openly that he believed "…the future of terrorism is cyber-terrorism". Codemasters, who had their site hacked on June 3rd, led to customer names, IP addresses, physical addresses, telephone numbers, encrypted passwords and order histories being snatched up by hackers. Here is what Codemaster's CM had to say. "As soon as the intrusion was detected, we immediately took codemasters.com and associate web services offline in order to prevent any further intrusion, During the days since the attack we… have regrettably discovered that the intruder was able to gain access to [the data]"
Epic Games, also suffered a similar attack recently by a band of brazen hackers. Thankfully the folks at Epic don't ever ask for your credit card info (thanks!). Here is what Epic founder Tim Sweeny had to say .
"Our Epic Games web sites and forums were recently hacked. After some downtime, they're back up and running now.
The hackers may have obtained the email addresses and encrypted passwords of forum users. Plaintext passwords weren't revealed, but it's possible that those passwords could be obtained by a brute-force attack on the encrypted passwords. Therefore, we have reset all passwords. Your new password at the bottom of this message.

The Unreal Developer Network (UDN) hasn't been compromised. Thankfully, none of our web sites ask for, or store, credit card information or other financial data.

We're sorry for the inconvenience, and appreciate everyone's patience as we wrestle our servers back under control.

Tim Sweeney
Founder, Epic Games Inc"
Long ago I was the victim of a hack on my clan's personal page (he was a Turkish hacker). It was incredibly frustrating because I had no clue how to stop it from happening again. Hats off to the folks at Epic and Codemasters for their speedy and honest reaction to the hack. Keeping my fingers crossed that this trend stops very soon. On a very selfish note, I'd hate to see some future games get delayed because of the actions of a few roller-thugs. Hackers do wear skates and lots of leather right?