Dragon's Dogma: Dark Arisen – Meaty Expansion Coming Soon
We loved Dragon's Dogma for its innovative pawn system and superb combat mechanics.  However, despite its lengthy and difficult campaign, DD left us longing for more.  We're greedy okay?  Today Capcom officially announced that the stand-alone expansion for Dragon's Dogma, Dark Arisen, will be arriving on both the PS3 and Xbox 360 on April 26th.  That's right, for those of you who still like to cradle your games like babies before you play them, Dark Arisen will ship to retailers on a physical disk on the same day it becomes available on PSN and XBL.  Is the expansion really big enough to warrant a retail copy? Read on.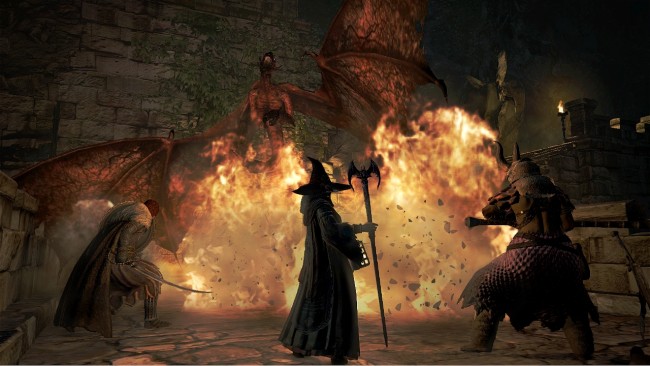 New Locations: Set just off the coast of Gransys in the cursed Bitterblack Isles, players will reportedly venture on an all new series of quests while encountering over 25 brand new enemy types. If victorious, players stand the chance of getting over 100 pieces of new loot (to make themselves feel all powerful and stuff).  If you held onto your save game from the original DD you'll be able to import your character, keep your loot and level, and get the insane bonus of "100,000 Rift Crystals, unlimited Ferrystones and the Gransys Armour Pack consisting of six brand new costumes for free."  Not a bad deal right?

and our podcast
) because it appears there will finally be some fast travel options available for players this time around.   We loved the game, but we really hated walking so damn much.  Video game laziness is a thing, okay?
Here is a list of all goodies Dark Arisen has to offer.
All of the content from the original Dragon's Dogma plus…
A massive new underground realm to explore featuring over 25 terrifying new enemies
More skills/equipment/augments:
Level 3 Skills
DD: DA provides each character class with a new tier of skills, giving players new devastating abilities and skills to master
Over 100 pieces of new equipment
All new high level weapons and armor sets for players venturing into the underground caverns
14 new character/Pawn augments
New tiers of equipment enhancement
And there's more:
Increased character customization options
Item appraisal
Option to select Japanese voice over