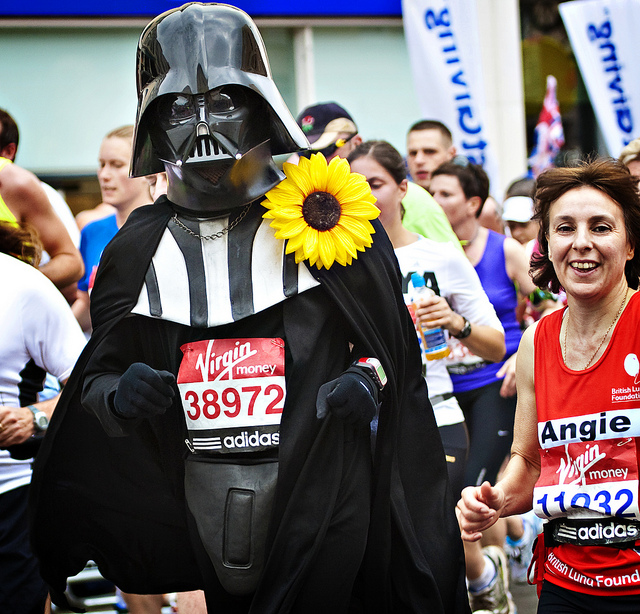 Course of the Force: Run Nerds Run! *UPDATED* (video)
How fast does it take to get from Santa Monica to San Diego?  Under 12 parsecs!  Chris Hardwick and the fine folks at Nerdist Industries are hosting a force filled Star Wars relay race from Santa Monica, CA all the way to a nerd-frenzied San Diego Comic-Con… and we'll be there.
Co-hosting COTF along with Chris Hardwick and Alison Haislip will be The founder of Her Universe and the voice of Ahsoka Tano Ashley Eckstein.   The trio will broadcast the race along with some exclusive interviews on both Starwars.com and the Nerdist Channel.  And, as if Comic-Con wasn't exhausting enough, the trio will all run quarter mile legs of the race themselves.   COTF relay will take place from July 7-11, and 100% of the proceeds go to Make-A-Wish.  We can't wait to see the incredible costumes that are created for this event.
PRESS RELEASE: At quarter-mile markers, participants will hand off the official Course of the Force lightsaber to the next runner as they begin their leg of the journey. On July 7, Course of the Force will kick off with an event at the Santa Monica Pier at 10:00 a.m. The relay will start later in the day and end that night at the Redondo Beach Pier. Other planned stops include Huntington Beach Pier, Oceanside and Crystal Pier at Pacific Beach. Instead of running, Monday, July 9 will feature special sponsor promotions, to be announced at a later date. The final day of the inaugural Course of the Force will conclude in San Diego at the Balboa Theatre, with entertainment to cap off the epic journey.
Course of the Force Schedule

Day Start Time Start Location End Time End Location
July 7 1:00 p.m. Santa Monica pier 7:00 p.m. Redondo Beach pier
July 8 7:00 a.m. Redondo Beach pier 4:30 p.m. Oceanside pier
July 10 7:00 a.m. Oceanside pier 5:30 p.m. Crystal pier at Pacific Beach
July 11 7:00 a.m. Crystal pier at Pacific Beach 12:30 p.m. San Diego