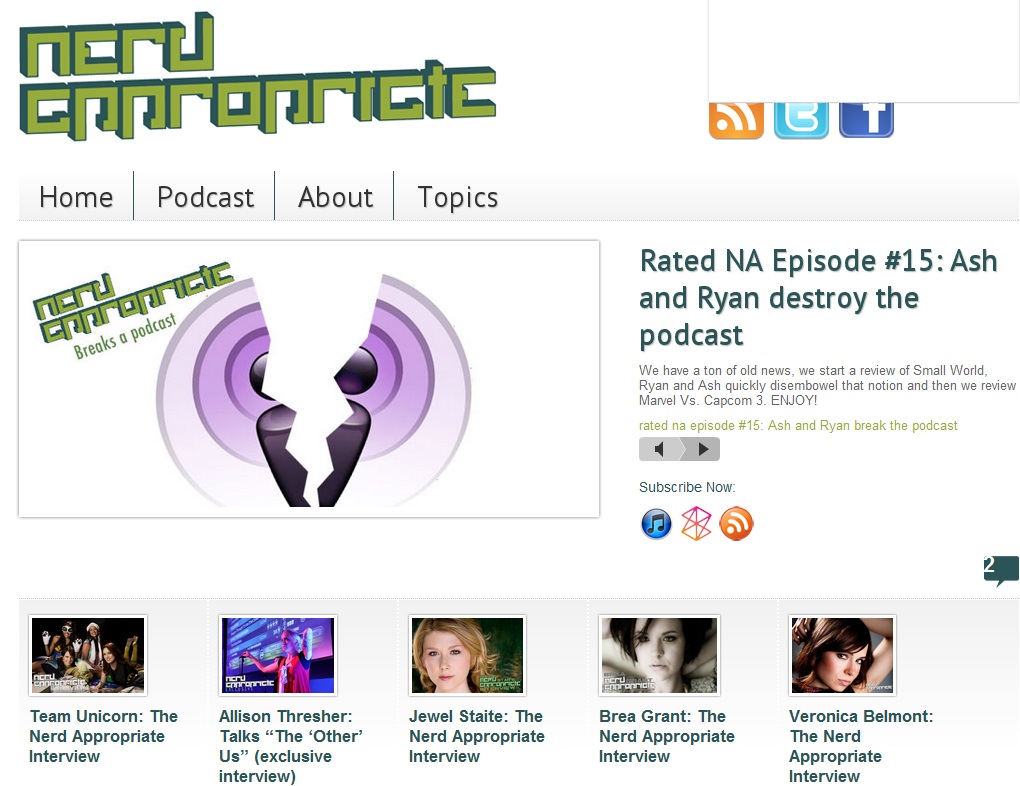 Mayhem March: our best month yet!
Thank you all for making March our most active month yet. Things continue to slowly build here at Nerd Appropriate, and we have you, our faithful "nerdlings" to thank for it! Have a look at some of the great stuff that went down during "Mayhem March"..
INTERVIEWS
Can you believe we got Veronica Belmont to do an interview? She even crashed our website and messed up our analytics, it was awesome!
Actress and author Brea Grant talked history, comics, movies, and being astonishingly talented (our words not hers).
We harassed Firefly's Jewel Staite for a few months before she gave in to our Jedi like powers of suggestion. Jewel talked food, travel, Firefly, and had time to tease Nathan Fillion…. why would you not want to read that?
We had a candid conversation with Allison Thresher former Harmonix CM about her amazing PAX panel "The 'Other' Us". Great insight about gender in the world of gaming and what community is all about.  Read this one and get smarter!
Speaking of lady gamers… Team Unicorn! All four members of the mega-popular girl-gang took some time to answer our dumb questions about video games, comic books, World of Warcraft, and… radiation.
The list goes on and on..
PAX EAST
Matt and I traveled to the icy world of "Boston" to cover PAX: East 2011. While there we made some great new friends, played a ton of unreleased games, and even managed to contract a near-deadly virus known as PAX-POX. Seriously, more shit squirted out of my nose than I ever thought possible. Like a booger sprinkler.
We covered a ton of games, and even managed to see a few panels that inspired us to sit down and write some "serious" articles.
My Article: Pax: The Other Us (best panel ever?)
And Matt's: Gamers: A community divided, A Manifesto
I personally cannot wait for another PAX.
We also covered a ton of new games, comics, and movies.  It was a busy busy month for NA!
______________________________________________________
On top of all this, we met virtually all of our March "goals"; my mother would be so proud.
So what is coming in April?
We'll still be churning out exclusive interviews throughout April and discussing some of the best games, DLC, movies, comics, music, and more. We promise to keep plugging away if you keep reading!
Let's do this!
Follow @NerdAppropriate on Twitter