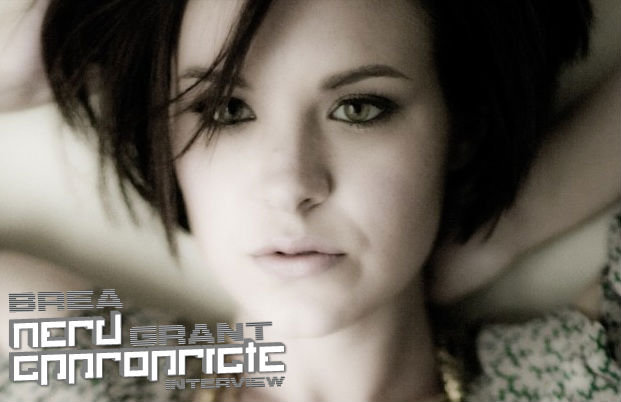 Brea Grant: The Nerd Appropriate Interview
Brea Grant is a bit of an anomaly; movies, television, comics, she's done it all.  Most folks recognize Brea the ill fated speedster, Daphne, on NBC's Heroes, but she's done so much more than that. Brea went on to appear in Rob Zombie's Halloween 2, one of horror's most beloved franchises and just when you thought it was safe to buy some comics, Brea co-created the historical zombie gore-fest "We Will Bury You" for IDW publishing.  Having met Brea on a handful of occasions I can tell you she's as nice as she is talented.  Enjoy this candid conversation about zombies, history, time travel, and talking dogs.
NA-Ash: Brea! Thanks so much for talking with us.  How goes it?
Brea: Pretty well. Thanks for doing the interview!
NA-Ash: I admittedly go to a lot of conventions (they're just so much fun). One my favorite convention memories dates back to Comic Con 2009 when I ran into you and your brother Zane.  In order to get my hands on a zombie themed musical album you recorded (Zombi2 – Fulci right?), you made me draw a piece of "original art".  While my art was terrible, you gave the album to me anyway.  I'm curious what other amazing artifacts Zane and yourself procured that day?
Brea: Well, technically the name was Zombii 2: Zane and Brea Sing Their Hits. And it was songs about our favorite zombie movies told from a first person perspective. The whole idea was that our comic wasn't out yet so we wanted something to give to people and we thought trading would be better than just handing it out. Or at least more fun. Some people really planned—we got this amazing original art piece of me fighting zombies and leaving Zane for dead, a cd full of beautiful photos, lots of cool comics and books. We also got fun stuff from the con like a lighter and a nice set of markers. And then we got stuff people pulled out on the spot – push-ups, a dance, a song. We also walked around the con and tried to get people to trade us and most people were willing to. I think Max Brooks thought we were really bizarre but I think everyone, including him, saw the humor in it.
NA-Ash: Speaking of zombies, NerdAppropriate loved your comic "We Will Bury You" (like.. a lot).  Do you recall your first exposure to the living dead?
Hm. That's a great question. I definitely didn't get into the zombie craze until late. I wish I could say I was a huge fan from childhood but I was much more into Teen Wolf and Are You Afraid of the Dark. But I remember watching 28 Days Later in the movie theater and actually asking the person with me if he wanted to leave because I was so scared. After that, my friends and I spent a lot of time talking about our zombie survival plan (move to back to east Texas where there are fewer people and more guns) and things sort of grew from there.
NA-Ash: Can you tell us a bit about your next comic book project Suicide Girls for IDW? Do you like to write in public places, or do you lock yourself away in silence while chained to a PC?
Brea: Suicide Girls is about a group of women whose sole purpose is to take down a religious, capitalist technocult. And of course, during the day, they pose naked on the Internet. I'm co-writing with Zane and David Hahn and Cameron Stewart are doing the art. Steve Niles and Missy Suicide are producing it.
Brea: I rarely write in public places. I actually only do that when I really have to get work done and I go somewhere with no Internet and make myself finish. My friend came over the other day and laughed because she said I'm always sitting at the same position on my couch with my laptop (Mac not PC). I have a dog so I spend the day around the house with her. It's about to be summer though so I then I start writing on my porch more. …And that may have been the most boring answer to a question in the world.
NA-Ash: By some strange twist of fate I got a chance to hang out on the set of your upcoming indie-drama Homecoming (where I ironically played one of your high school teachers in a party scene).  The experience was a ton of fun and the cast seemed to get along like old friends.  What was your experience like on Homecoming, and how did the role of Estelle differ from other characters that you've played?
Brea: I know! And thank you again for coming out to do that! Homecoming was a totally different thing for me. It was a very low budget indie (as you might can attest to being on set) and I got to play a totally different character. Estelle is a medic in the army who comes back home on leave to see how her family and friends have changed without her. A lot of the characters I play feel like they're right out of the comic book world and I love the world of sci-fi. But it was interesting to do a completely different take on a character. I had told my manager that I wanted to do an indie and he found this script that was just incredible. Estelle's emotions are very raw and her experiences are very real. I mean, don't get me wrong—I love doing sci-fi and horror because I do think it's relatable, but there was something very unique about playing something so timely. It was an amazing experience. And I think by the time you saw us, we did feel like family. I think you get very close to people very fast on such a small film.
NA-Ash: At this point in your career you've done a bit of everything, television (Heroes), big budget Hollywood films (Halloween 2), Comics (WWBY), and indie dramas (Homecoming).  If an evil wizard appeared and forced you to choose to do only one these until your end of days, which one would you choose Brea?… which… one… would…you… choose? (evil wizard voice)
Brea: Crap. I don't think I can choose which is why I have chosen to do all of them! If I had to choose, I would probably go with television. I like having a steady job and it's where I got my start. You develop a family with the people around you and you usually get to live in one place for an extended period of time (unlike leaving for a few months and then coming back and forth). I would love to do something like Lord of the Rings where you go and work on the same character for years and years somewhere like New Zealand but I think television provides the same thing for me. I really get to know the character inside and out and there's something really nice and comforting about that.
NA-Ash: Okay, that one was a bit mean. If a producer approached you with a blank check, what sort of masterpiece would you create for yourself to star in?
Brea: Funny you should ask. I recently co-wrote a script with my friend Vera Miao that she and I co-star in and we're filming it in the fall. It's an apocalyptic road trip indie movie so I guess that's what I would choose. I have a great respect or maybe envy for people like Miranda July and the Duplass brothers who make and star in their own films. That's the next step I'd like to take.
Brea: Of course, if you offered me the feature version of Hack/Slash, I'd obviously take that too.
NA-Ash: We know that you're a tech savvy nerd (stated with total respect).  What gadgets are you currently using on a daily basis that you simply could not live without?
Brea: Contrary to popular belief (by I think about 3 people), I am not much of a gadget person. When it comes to my daily life, I really try to be a minimalist and only own things I really really use. For example, I kept my original iPhone until late last year when it completely crapped out. But if I had to choose, it would be my iPhone 4 and more specifically than that, my Words With Friends app.
NA-Ash: I read that you were in graduate school studying to become a history teacher when you decided to try your hand at acting. Scenario: You're about to fail your history class.  A stranger gives you a time traveling phone booth so that you can kidnap historical figures in order to help you ace your end of semester presentation.  Who do kidnap and why?  (This would make a great movie plot…..)
Brea: Amazing question. Michel Foucalt (who didn't die that long ago) because we studied his work a lot in my program.  Emma Goldman because I would love to meet her.  Joseph Campbell because I personally studied the hero myth. Theodor Adorno and Max Horkheimer because I didn't understand anything they wrote.  And Howard Zinn because when he died, I cried and that's the only time I've ever cried when a famous person died. His book, A People's History of the United States, changed the way I looked at the world.
NA-Ash: Less people these days are buying physical media in favor of digital versions of of their favorite books, comics, and music.  As an author, how do you feel about the change in the medium?
Brea: I'm still pretty old school. I read scripts digitally but that's about it. And I'll download comics to my phone for plane trips. Otherwise, I still go to the library to get hardcover books and I have shelf loads of comics. I like owning comics in particular because then I can just hand them out to people when they want to read them. It's good and bad though because most of the time they never get returned.
I won't say I'll never give it up but there's something I really like about opening up a book to the right page or carrying it around in my bag and feeling it's weight. I'm sure in two years I will have changed my mind.
NA-Ash: It's Saturday night.  All your friends blew you off to go fight crime.  What do you do for fun when you're not being creative?
Brea: Make some sort of baked good, watch a movie and hang out with my dog. There's probably a glass of whiskey in there too.
NA-Ash: This being NerdAppropriate.com we love to ask people we admire their deep dark nerdy secrets.  What nerdy hobby, or aspect of your personality, are you almost too ashamed to share with us?… almost..
Brea: I love movies with talking animals or with animals as leads. I saw Hotel for Dogs in the theater.
NA-Ash: Brea, thanks so much!  On behalf of myself and the rest of NerdAppropriate.com we highly appreciate the great stuff you've contributed to nerds everywhere.  Any last words?
Brea: Thanks for doing this!
NA-Ash: Anytime amigo!
_________________________________________________________________________________
Thanks for reading our exclusive interview with the super cool Brea Grant.  Check out the other 2011 Nerd Appropriate Interviews!
Veronica Belmont – Queen of the internet (yes the whole thing)
Alison Haislip – G4TV's premiere correspondent (and kicker of much ass)
Abbie Heppe – Community Manager of Respawn Entertainment and game master wizard.
Amy Okuda – One of the stars of the mega-popular web series "The Guild".
Julia Voth – Star of Bitch Slap and model for Jill Valentine.
Anamanaguchi- Chip tune heroes and video game sound track maestros.
ALSO
Follow Brea on Twitter
Follow NerdAppropriate.com on Twitter
Follow Ash on Twitter
_______________________________________
Coming this month! (MAYHEM MARCH)
Team Unicorn – A gang lady gamers
Jewel Staite – Firefly and Stargate
Nicholas Mccarthy – Sundance Horror director
Ashley Eckstein – Star Wars: The Clone Wars
Buy Brea Stuff!
[amazon_enhanced asin="1600107524″ price="All" background_color="FFFFFF" link_color="000000″ text_color="0000FF" /]
[amazon_enhanced asin="B002YICNE2″ price="All" background_color="FFFFFF" link_color="000000″ text_color="0000FF" /]
[amazon_enhanced asin="B0024FAD9C" price="All" background_color="FFFFFF" link_color="000000″ text_color="0000FF" /]