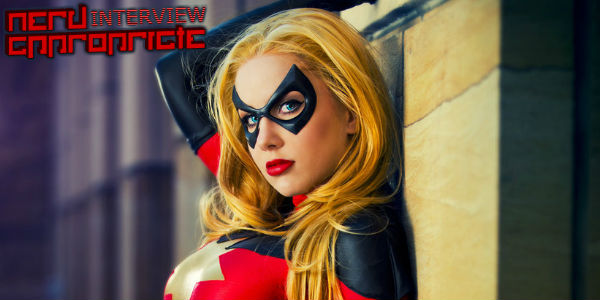 Crystal Graziano: The Nerd Appropriate Interview
If you're a "con carnie" like me, you've definitely seen Crystal Graziano's amazing cosplay in action. Whether she's dressed as Mourningstar for the game Firefall or sporting kick-ass female Commander Shepard armor, she rocks the cosplay scene as an absolute pro. Enjoy my recent chat with the very stunning costumer extraordinaire, Crystal Graziano, as we talk costumes and brand ambassadorship.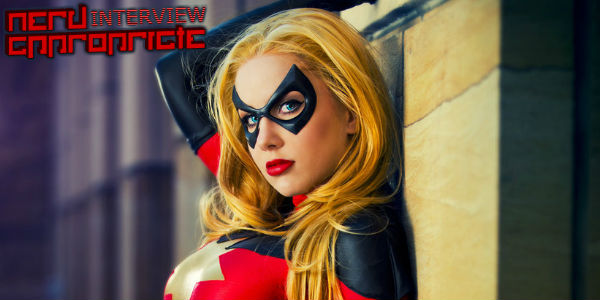 Hilary: We last saw you at San Diego Comic Con dressed as female Commander Shepard. How long did that take you to complete?
Crystal: My Shepard costume took approximately a month to make.  It's made out of foam and urethane rubber, and the under-suit was made from custom-printed Lycra. Also, I'd like to give a shout out to Epic Cosplay wigs! http://www.epiccosplay.com/
Hilary: It was an absolutely amazing costume and you looked just like her! Have you played a lot of Mass Effect?
Crystal: Thank you!  I actually got into Mass Effect around March, but I've been completely addicted.  I've played through the series three times now.
Hilary: What is your process in choosing a costume to make? Do you usually have to play the game, read the comic or watch the movie first?
Crystal: I always cosplay characters from a series that I've played, seen, or read, and most importantly, that I like.  If you aren't a fan of what you're cosplaying, it's just not enjoyable.  I'm usually drawn to cosplaying the strong female archetype as opposed to the damsel in distress, because I like a girl that can kick some ass!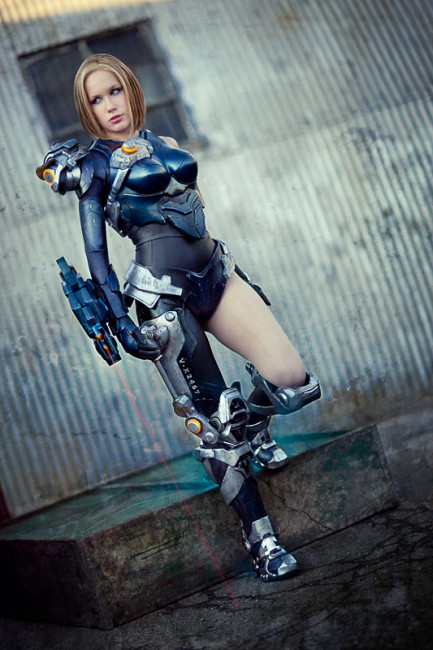 Hilary: Can you tell us a little about what you are doing for the game Firefall? Exciting stuff!
Crystal: Yes!  Firefall is an upcoming free-to-play MMO shooter, and I travel with the Firefall booth around the world as the character Mourningstar.  It's a lot of fun!  The costume itself is made by Steve Wang's team, and it's an amazing piece of work  I'm also Firefall's official sponsored cosplayer, which means that I get paid to make whatever costumes I want.  As a cosplayer, it's really a dream job!
Hilary: What cons are you planning on attending next? PAX, Dragon Con? Any new costume unveils? Where can people find you?
Crystal: I'll be heading to Germany in mid-August for Gamescom, and at the end of the month I'll be at PAX Prime.  These are both part of my work with Firefall, but I will be unveiling some new costumes soon!  Ken Marinaris from Zone of the Enders, EDI from Mass Effect, and a secret costume from Firefall are all in the works this year.
Hilary: What is your favorite part of the convention experience?
Crystal: My favorite part of conventions would have to be the people you meet and get to hang out with.  Most of my friends I've met through conventions and cosplay, and it's really great just to geek out about your favorite game or costume construction with other people.  It feels good to have like-minded people around!
Hilary: Any bizarre convention stories to share? 
Crystal: Most of the weirdness I encounter happens online rather than real life, thank goodness.  However, there was one time when a guy dressed as a catgirl tried to kiss me for a photo that he asked my husband to take.  Obviously I freaked out!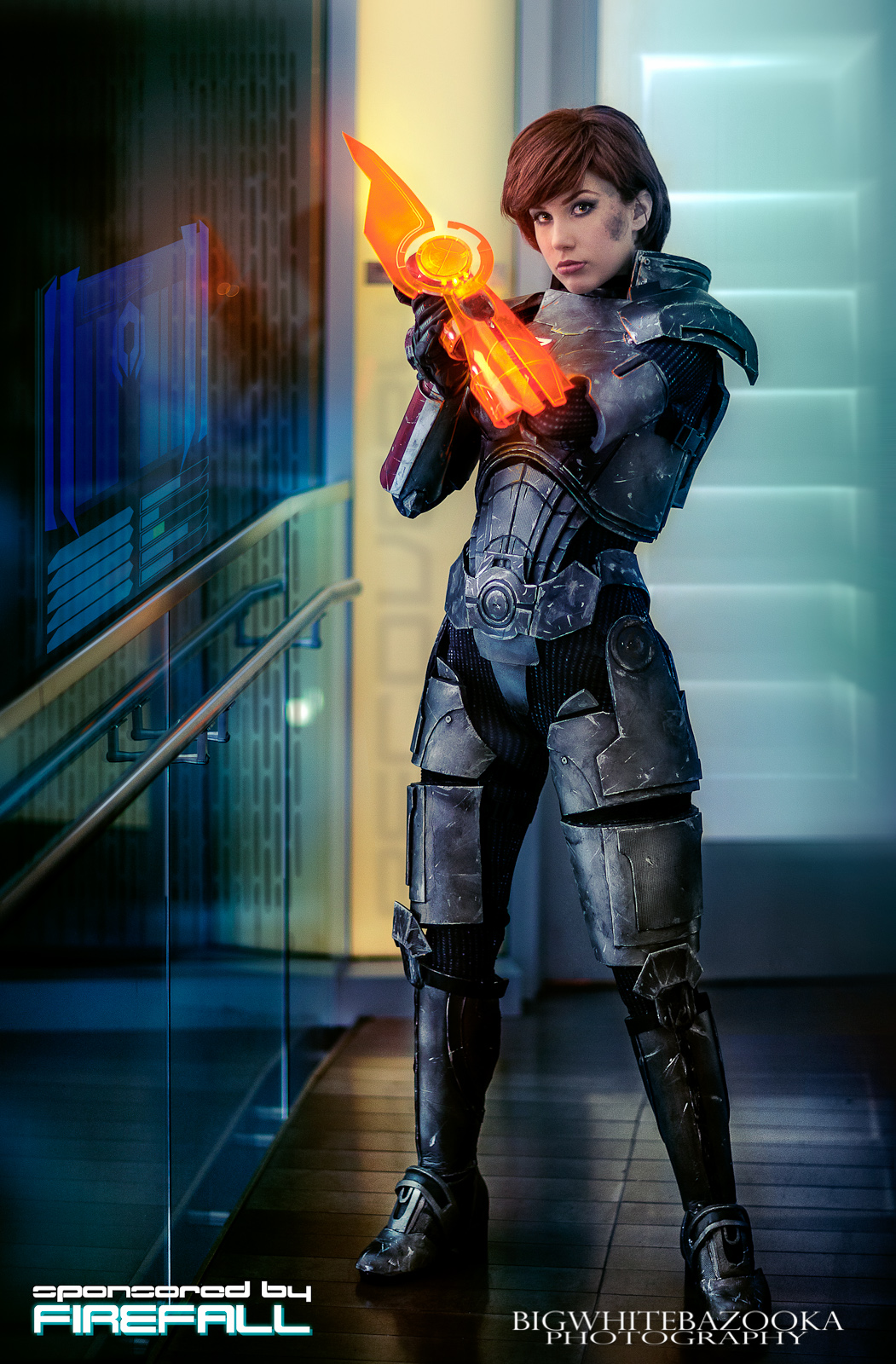 Hilary: What was your very first costume?
Crystal: My first costume was Aeris from FF7.  It was a "closet" costume where the components were just vaguely similar to what she wears, and I used that awful crunchy colored hairspray instead of a wig.  Despite how bad it was, I had a great time!
Hilary: Any advice for people just starting out in cosplay? 
Crystal: Don't be discouraged if you aren't great at sewing or don't have the best craftsmanship initially.  That's something that comes with time and experience. First and foremost, enjoy cosplay and use it to connect with other fans!
Hilary: The Nerd Appropriate Signature Question: What are some of your nerdy hobbies or interests that you're almost too embarrassed to share with our readers?
Crystal: Most of my really embarrassing stuff was back in grade school.  I was obsessed with Pokemon and would go out with 6 of those Burger King toy Pokeballs clipped to my belt, with Pokemon toys inside, wherever I went.  I was not the most popular kid at school, as you can imagine.
Speed round:
Favorite pizza topping: Mushrooms
Game you're playing right now: Mass Effect 3 and Firefall
Favorite candy: Godiva truffles!
PC or Mac: PC
Favorite heroine (any story, movie, game, etc.): Motoko Kusanagi from Ghost in the Shell
Hilary: There has been a lot of discussion around "booth babes" vs. brand ambassadors lately. What's your take?
Crystal: I'd say a booth babe is someone hired once or twice just to stand around and look nice, while a brand ambassador is someone that may be the face of a product or company, but they're long-term and have a more involved role with the company and the audience.
Hilary: Wow! Thanks so much for chatting with us. Where can people find you online?
Crystal: Thank you for taking the time to interview me! (smile) You can visit my Facebook page at: http://www.facebook.com/crystalcosfx