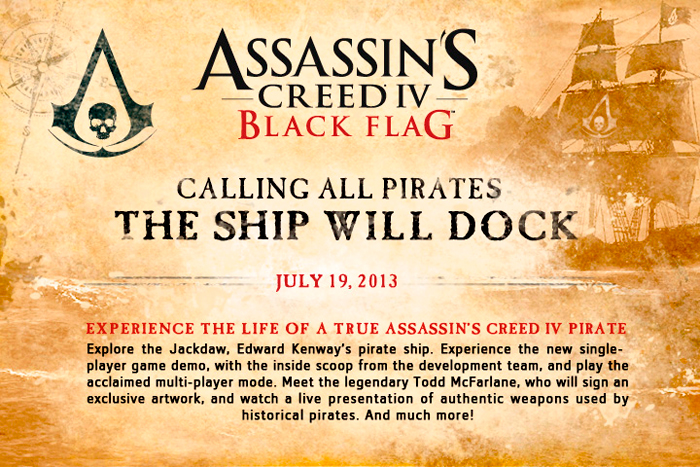 Comic-Con 2013: Walk the Plank With Assassin's Creed IV
I've done a lot of crazy things at Comic-Con over the years, but I can honestly say I've never been on a pirate ship at Comic-Con. Ubisoft is will be bringing AC IV's Jackdaw to life for two days at the San Diego Comic-Con, and you don't need to be an actual pirate to check it out. Edward Kenway's Jackdaw will be open to Comic-Con attendees on July 19th and and 20th between 10:00 a.m. and 7:00 p.m. at the 5th avenue pier behind the convention center. We don't think you'll be able to miss it.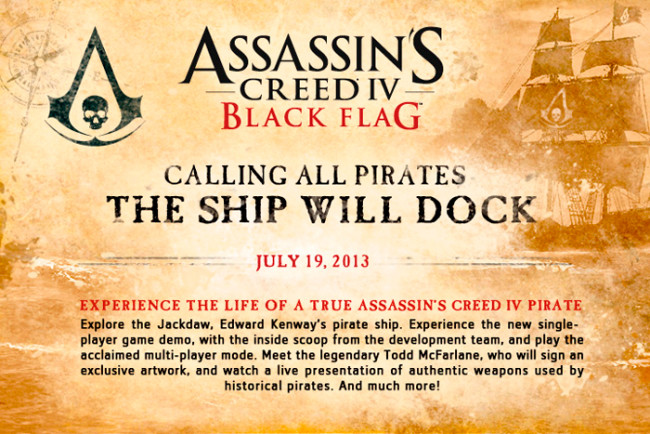 Unlike an actual pirate ship filled with rats and scurvy gummed madmen, the Jackdaw will have multiple levels of entertainment and fun set up for fans to enjoy, including a brand new single player demo of ACIV and hands on multiplayer.
Also on hand will be comic artist Todd McFarlane (who was at my first comic convention over 20 years ago) who will be signing limited edition Assassin's Creed posters and showing off the new Assassin's Creed figure line and resin statue. McFarlane will be signing on Friday, July 19 from 4:00 p.m.- 7:00 p.m. and Saturday, July 20 from 10:30 a.m.-1:30 p.m.
If booty and plunder are your thing (and who doesn't like plunder), Ubisoft will be giving away inflatable cutlass swords, art booklets, and more.
We already listed The Assassin's Creed Panel on this year's list of game centered programs , but if you're interested in learning a bit more about the latest Assassin's Creed game from the creative minds that made it, here is the skinny ripped directly from the Comic-Con program.
Meet Edward Kenway, the surprising new Assassin in the epic franchise as we set sail in the true, gritty Golden Age of Pirates. See a live demo of Assassin's Creed IV Black Flag, and hear about what's in store for the Assassin's Creed world, from the acclaimed comic book series to the next wave of detailed figures from McFarlane Toys. Meet and ask questions of the current torchbearers for the Assassin's Creed franchise: Assassin's Creed IV Black Flag writer Darby McDevitt, comic book writer Brenden Fletcher, and legendary comic book artist Todd McFarlane! / Friday July 19, 2013 2:00pm – 3:00pm  Room 6BCF
See you there!