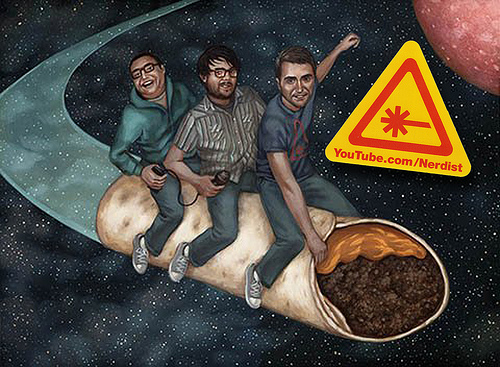 Comic-Con 2012: The Nerdist Channel's New Lineup Highlights Creativity
We love what both Geek and Sundry and The Nerdist are doing for pop-culture.  By highlighting creative and intelligent individuals that typically don't get a ton of attention, Nerdist Industries lets people know that it's okay to be an art nerd, a science nerd, or heck, any sort of nerd.  The competitive nature of broadcast television, which needs commercial sales in order to operate, has stifled the growth of creative programming for far too long.  Both Geek and Sundry and The Nerdist are looking to break the mold by offering viewers an alternative way to watch the kind of shows that they actually want to see.  And this is only the beginning.   Check out The Nerdist sizzle reel from Comic-Con 2012 below, and keep your peepers peeled for The Doctor Who cast, Neil Patrick Harris (with puppets), Bill Nye, Stephen Hawking, Neil Degrasse Tyson, Scott Ian, Danica McKellar, Holly Conrad, Jessica Merizan, and MORE. We have a lot to look forward to.
ABOUT NERDIST INDUSTRIES
Nerdist Industries is a multi-platform creator of genre and popular culture content. Nerdist was founded in 2008 by comedian, author, podcaster, new media personality and AMC's The Talking Dead host Chris Hardwick. In 2011, Nerdist and GeekChicDaily merged to form Nerdist Industries with Hardwick serving as Founder and Chief Creative Officer and digital media entrepreneur Peter Levin, founder of GeekChicDaily, serving as Chief Executive Officer. Nerdist Industries consists of a popular website at Nerdist.com; a premium YouTube channel (youtube.com/nerdist), a top comedy/popular culture podcast network on iTunes that is also produced as a TV show on BBC America; the Nerdist News daily e-newsletters, a following of over 1.6 million Twitter fans, a book, The Nerdist Way, by The Penguin Group; a plethora of live events and much more. Nerdist Industries investors include Legendary Pictures, Mandalay Enterprises, Machinima CEO Allen DeBevoise, Japanese media juggernaut Yoshimoto Kogyo, Gamespy founder Mark Surfas and Revolution Studio's Joe Roth. Nerdist Industries is headquartered at Meltdown Comics in Hollywood, CA.