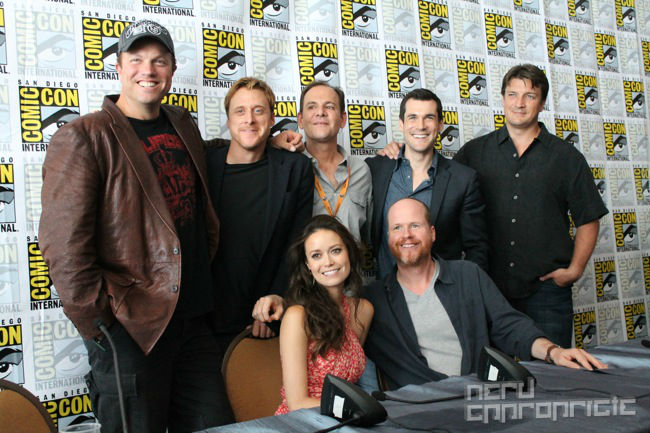 Tonight – Browncoats Unite: Ten Years of Firefly!
The loss of Firefly was one of the greatest television blunders of all time.  Placed into an awful time-slot, aired out of order, and not marketed in any way, FOX doomed Firefly to fail before it ever had a chance.  Despite Firefly's premature cancellation the fans (Browncoats) wouldn't let go, and neither would the cast and crew.  Defying all odds, the crew of the Serenity reunited one last time in the aptly titled feature film, Serenity.  This summer we were lucky enough to attend the Firefly reunion and press conference at San Diego Comic-Con 2012 and one thng was abundantly clear, Joss Whedon and the cast of Firefly were still very much in love with the 'verse.  Tonight, The Science Channel presents an all new documentary titled Firefly: Bowncoats Unite that features all new interviews and footage from this summer's Comic-Con.  Use this documentary as exhibit-A when the new Firefly inevitably launches … one of these days.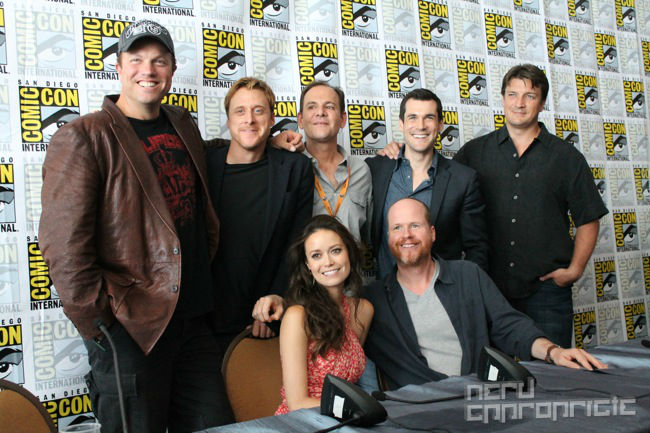 Watch Firefly: Browncoats Unite tonight at 10 PM (ET/PT) on the Science Channel.
PRESS RELEASE: After months of intense buzz and two blockbuster panels at both San Diego and New York Comic-Con, it's finally time for the main event – FIREFLY: BROWNCOATS UNITE on November 11 at 10 PM (ET/PT), Science Channel reunites Joss Whedon, Nathan Fillion and the entire renegade crew of the Serenity for the first time ever to provide the complete oral history on the franchise that continues to explode in popularity – despite meeting its end a decade ago.  The 60-minute special includes secrets from the set, exclusive cast interviews, and footage from this year's colossal Comic-Con panel that dominated the pop culture conversation.  Joining Whedon and Fillion for FIREFLY: BROWNCOATS UNITE are Serenity crewmembers Sean Maher, Summer Glau, Adam Baldwin, Morena Baccarin, Alan Tudyk, Gina Torres and Jewel Staite; along with executive producer Tim Minear and executive story editor Jose Molina.
This summer, FIREFLY creator Joss Whedon triumphantly exclaimed to a crowd of thousands at San Diego Comic-Con that "the story is alive." Legions of fans across the world couldn't agree more, proving that a series which is comprised of only 14 episodes had endured the test of time.  Guided by Entertainment Weekly senior writer Jeff Jensen, Science Channel re-created the set of the Serenity for this epic gathering capturing the insights and memories of space's most-rebellious flight crew – including the moment they realized they were canceled and where they believe the FIREFLY universe could live next.
"When Science Channel began airing FIREFLY in 2011, we immediately realized that these fans are a subculture united by a unique and fanatical passion for the series," says Debbie Adler Myers, general manager and executive vice president of Science Channel.  "Our goal is to present them the series they love – but in a totally new and surprising way.  Whether that's through exploring the science behind the show or reuniting the entire cast for the first time, we want Science Channel to be the home for Browncoats everywhere."
Science Channel's FIREFLY Sunday extravaganza begins at 7AM ET/PT with an all-day marathon of the series.  Then, at 10PM ET/PT, the event Browncoats everywhere have been waiting for – FIREFLY: BROWNCOATS UNITE premieres on Science Channel.