An October to Remember… Too Many Games?
October 2012 will no doubt go down in video game history as one of the most insane release months of all time.  The funny thing is, it's not just the quantity of October's releases, it's also the diversity and quality.  With Borderlands 2 still wub wub-ing in trays everywhere, early October also saw the release of Resident Evil 6, XCOM: Enemy Unknown, Dishonored,  and the 4th episode of Telltale's incredible Walking Dead adventure game (which was one of this year's biggest surprises for me… it's so good).  Later in the month we'll have the releases of both Dance Central 3, Assassin's Creed 3, and even more Borderlands 2 DLC.  When are we supposed to sleep again?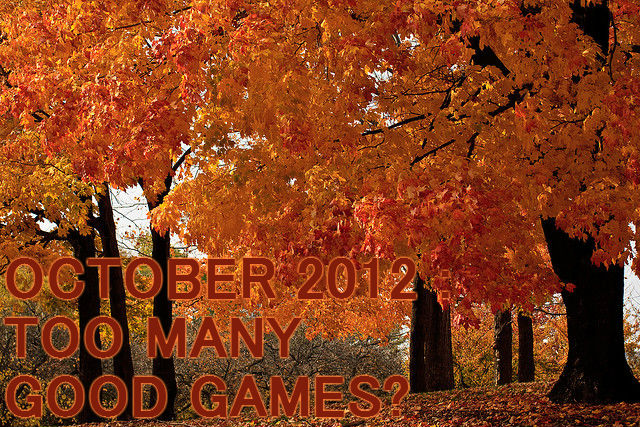 If you're intro strategy, shooting, dancing, stealth, or adventure, October 2012 will probably eat your soul and have your family asking "what happened to you!? You used to have such potential…"
What October releases are you playing?  The correct answer is "ALL OF THEM!"
Posted in Games on Saturday May 18, 2013. Read More About borderlands 2, Dishonored, Mass Effect 3, rated na, walking dead, XCOM.
Ash is an editor on Nerd Appropriate. Check out the other 578 articles by Ash on our site.