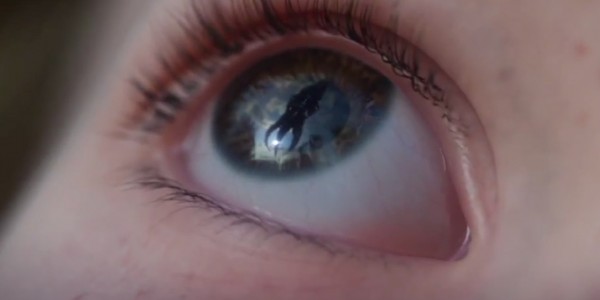 Los Angeles Invasion: Surviving the Mass Effect 3 Launch Event
Los Angeles Invasion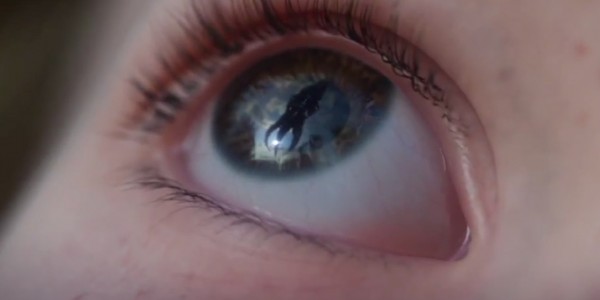 First off, thanks for allowing me this opportunity to write my first blog post for Nerd Appropriate! How exciting! Speaking of exciting things, I had the pleasure of attending the West Hollywood launch event for Mass Effect 3. Take Earth back!
Packed between a couple "big box" stores and near a conveniently situated Starbucks (aren't they always?), the line of fans stretched down Santa Monica Blvd with lots of smiling faces. The shine of so many N7 insignias made me a very happy girl – it also let me know I had gone to the right place.
When I arrived at 8pm, there were people camped out with folding chairs ready to be the first to get their hands on the final chapter of Commander Shepard's story. Inside the store, lights blazed and cameras were trained on the center of the room where David Silverman, Director of Marketing for BioWare, sat in the middle with a command center ready to start looping in livestream feeds from Boston, Chicago and Edmonton.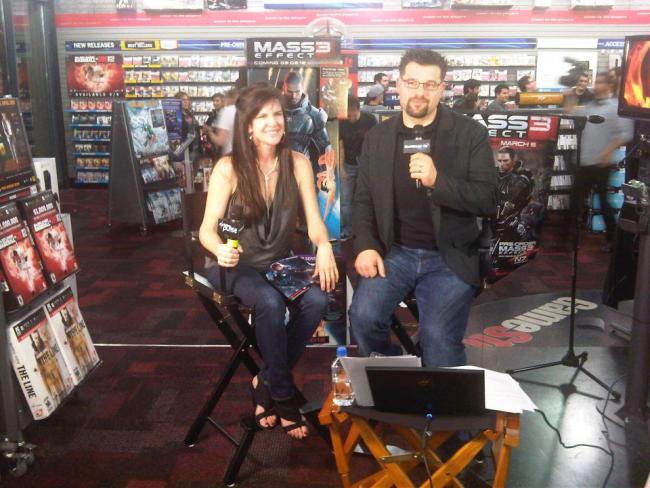 The night went on to include a hilarious exchange with Brandon Keener, voice of Garrus Vakarian, and David Silverman talking about how Brandon "romances himself" – I'll let you put the pieces together there – and then an interview with Jennifer Hale (Female Shepard), Keener, both in studio, and Mark Meer (Male Shepard) patched in from Edmonton.
Throughout the night, we watched as Boston, Chicago and then Edmonton crossed over the lucky threshold where people could receive their new games.  When it was our turn, I witnessed some tears and some unadulterated joy, but the thing that struck me the most was the expressions on the faces of BioWare employees. Casey Hudson, Mac Walters, Caroline Livingstone, David Silverman and the EA Los Angeles (EALA) video crew all seemed to pause for a moment – maybe I'm taking liberties here, but I think it was a mix of anticipation and above all, pride in what they had accomplished from the inception of the series in 2007. Jesse Houston, former Sr. Producer at BioWare, now at Riot, said that this was a, "culmination of so much hard work from every part of the BioWare team. We bled together."
The night continued on with the premiere of Tobuscus' literal Mass Effect trailer which, as a highlight, raises the issue of zombie aliens giving you a shoulder massage of death. 
The Crew : At the end of the event, a table was set up for people to get memorabilia signed by a host of cool people – ones mentioned above and also included Kimberly Brooks (Ashley Williams), Ali Hillis (Liara T'Soni), Ash Sroka (Tali) and others. I learned in this exchange that 1- you should get people to sign the paper (which by the way, is reversible – go FemShep!) and not the outside plastic; 2 – Ali Hillis is an absolute sweetheart with a fantastic memory; 3 – Jennifer Hale can SING really, really well; and last but not least,  5 – Casey Hudson likes oatmeal cookies.
During this time, I had the supremely amazing chance to speak with Raphael S'barge, the voice of Kaidan Alenko, and learned that not only is he gifted vocally, but he's also quite genuine. As I was fangirling (yes, that is a technical term) all over him, he warmly shook my hand and smiled offering me an autographed copy of a Kaidan photo. We also talked about his role on ABC's "Once Upon A Time" – if you're not watching every Sunday night, you should.
It was also fantastic to be reunited with the team at Crabcat (www.facebook.com/crabcatindustries). Holly Conrad has a new set of armor, folks, and it's baller, yo! I also got the chance to take a picture of her with Jennifer Hale. Two FemSheps in one room? Mind blown.
We discussed the Morgan Spurlock film in which she is featured, "Comic Con IV: A Fan's Hope" and she mentioned, "how lucky she was to be chosen for the documentary about people striving for a dream."
Overall, with hundreds of people filing into the store, raising their voices in enthusiastic shouting and bonding over a story so epic as to inspire so much emotion from fans, the only word I could use to describe it was surreal – just kidding. I hate that word. Truly though, it felt like we were all part of something, a cause bigger than our desire to play the game. In that stuffy GameStop packed with sweaty people and hot lights, I could almost believe that the Reapers were real and that we, as a rag-tag team of Alliance soldiers, could stop the invasion. We were there to celebrate. We were there for Shepard.
Writer. Snowboarder. Video game proselytizer. All-around nerd and animal lover. During the day, you can find Hilary working as a marketing director for an international software company and at night (where is this going?), she squeezes in as much time as possible with her Xbox or Kindle. If you feel so inclined from reading this awkward description to find out more about her, go here: www.hilaryshapiro.com or @hilaryheskett  Oh, and she is Gunny from Crabcat!

Follow us!… all creepy like…