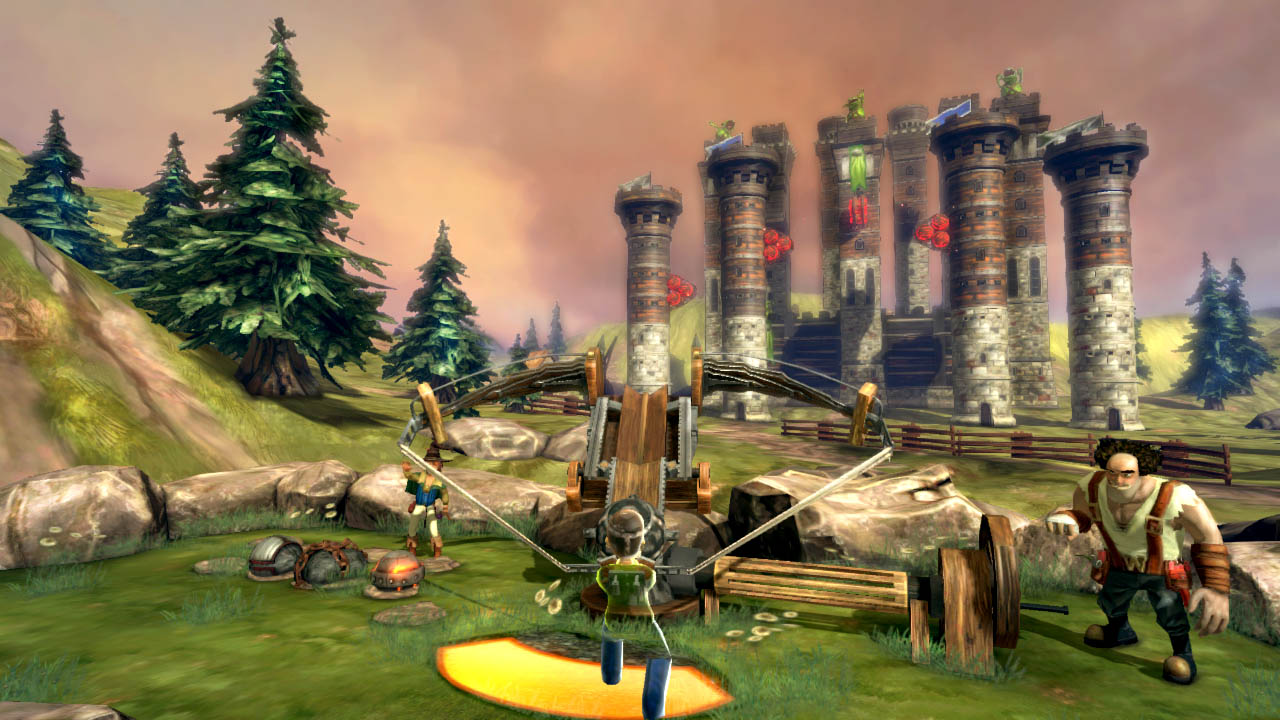 PAX East 2012: Wreckateer with Kinect gets your wrecks in effect
Straight from the PAX East 2012 expo floor comes a an excellent Arcade Kinect game from the fine folks at Iron Galaxy. The Wreckateer puts you at the controls of a ballista as you wreck havok in goblin infested castles. Shots fired from the ballista each have their own powers and abilities — and you control all of the action using the Kinect for Xbox 360 Sensor. The verdict? It's a hell of a lot of fun!
The experience on the PAX East floor
I got to check out a few of the games levels and various ballista shots on the show floor. The first level was relatively straight forward. I used a shot that could be nudged in flight to hit the precise point of the castle's towers to create maximum destruction. The end of the round had me firing a Splitting Shot that, when activated by raising my arms (like an explosion), spread out into a scatter shot that I could control with my arm span. Imagine holding a string of bullets that can be stretched, turned, or compressed to blast a wide berth in the environment.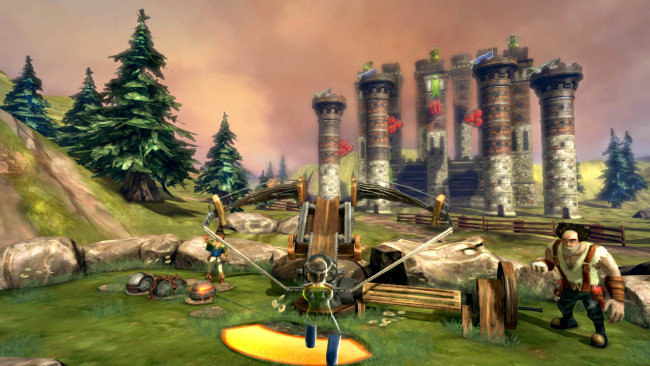 Other levels bring greater challenges, and even more innovative shot types. I played another level in the demonstration that placed a row of towers in front of the actual castle (the castle in the back would net the most points). In order to reach the core defenses I used a Flying Shot that I could glide with my arms to weave between the towers, hitting bonus point emblems, and eventually dive bombing into a goblin's face and smashing the walls that held him.  You can really get a sense of the hard work and attention to intricate gameplay the team put into Wreckateer. The team at the PAX East booth were incredibly nice and passionate about this project.
Easy to learn, difficult to master
There is definitely an experience here for players of all skill levels. I gathered that each level held secrets to maximizing scores. Fly under the gates of a castle, for instance, and you might find a stockpile of explosive barrels. Even the basic shot type boots your score the more times you nudge it in flight. The game also features a fully-dynamic, physics-based destruction system; so, smashing a castle at different points creates different explosions. With enough skill and clever maneuvering, towers will tumble into one another like dominoes.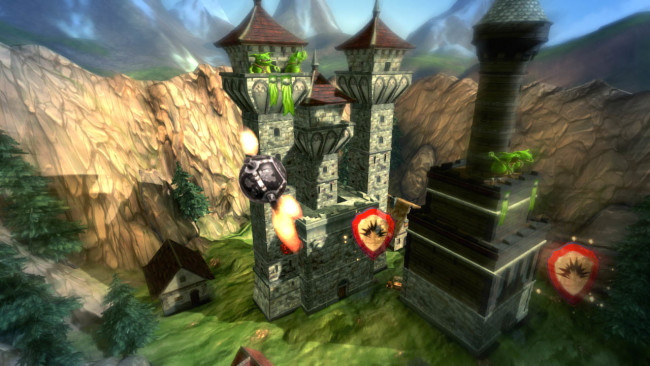 Online leaderboards show how you stack up against the competition, giving you bragging rights over your friends. The sports over 60 levels as well as custom playlists for your favorite challenges. Two player, local, turn-based multiplayer will also be supported. There is a heck of a lot packed in this arcade title, and will undoubtedly provide excellent value when Wreckateer officially launches this Summer.
The Arcade Kinect game you've been waiting for. 
Wreckateer is such a blast (pun intended). Iron Galaxy gives players exactly what they want in a physics based destruction game, and has created an experience that is accessible to players of all skill levels (kids and families welcome too). This is also a game I was excited about before PAX, and was even more stoked on it after playing it — Personally, for delivering on a fun experience on a game that will appeal to a wide range of gamers, I'm giving this one my PAX East Best of Show! Wreckateer is not to be missed when it launches this Summer — now get to blastin'!
Happy Gaming. 
About Iron Galaxy Studios: Iron Galaxy is a Chicago-based game development studio founded by industry veterans who have worked closely for years.  Each of our team members averages over eleven years' experience in various senior roles with a gameography that boasts published titles on every major gaming console since the original Sony PlayStation. With a focus on big console technology including Xbox 360 and Playstation3, our clients and partners rely on Iron Galaxy's expertise and track record to execute on their most trusted brands.