More Orcs Must Die!! Co-op Sequel Promises Much Mayhem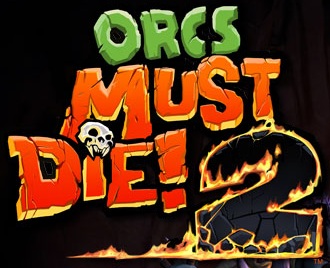 I've always loved strategy games and the folks over at Robot Entertainment have found a way to scratch my strategy itch in the best way possible (strategy can be itchy).  Orcs Must Die was one of our favorite new games at PAX: East last year, and we're happy to announce the cooperative sequel to this strategy gem has been officially announced!  One of the biggest complaints regarding Orcs Must Die was the mysterious and questionable lack of co-op play.  Now, less than a year later, Orcs Must Die is back with all new levels, spells, traps, chaos, and two-player co-op MAYHEM.  Due to improved net code and internet stability cooperative gameplay is all the rage, and we love it.  There is nothing better than hopping online with some friends and working together against a common enemy.  We'll actually be getting our hands on Orcs Must Die 2 this weekend at PAX: East and will be sure to let you know what we think.  Until then, absorb this press release.
ROBOT ENTERTAINMENT UNVEILS ORCS MUST DIE! 2™
The co-op sequel to last year's critically acclaimed Orcs Must Die!™ will be playable at PAX East
PLANO, Texas – April 2, 2011 – Robot Entertainment today announced Orcs Must Die! 2, the sequel to last year's AIAS Strategy Game of the Year. Orcs Must Die! 2 thrusts players and their friends back into battle against a terrifying mob of orcs and other monsters. With a redesigned spellbook, players will have a broader range of options to build a deadly arsenal of defenses. Investing hard-earned skulls in an enormous new upgrade system will allow players to cater to their favorite methods of burning, grinding, tossing, or dismembering orcs.
"In 2011, we implored players to kill the orcs," said Robot Entertainment CEO Patrick Hudson. "As many as possible. Yet, only 3.4 billion orcs have been slaughtered to date. The only way we will get to a respectable orc death toll is by adding another killing machine and cooperative play. Bring a friend and destroy the orcs!"
Orcs Must Die! 2 begins days after the ending of the original game. With the rifts closed and the magical Order dead, the War Mage finds himself suddenly thrust into a new battle against the mindless orc mob. He has a powerful, if questionable, new companion in the Sorceress, an ex-War Mage responsible for the destruction of the Order.
Orcs Must Die! 2 Features:
· New Campaign – Orcs Must Die! 2 features a full campaign that you can play in single-player or with a friend in co-op. Choose to play the campaign as the War Mage, a headstrong hero who charges into danger, or play as the more nuanced Sorceress, a new hero who keeps enemies at bay with mind-control and magic.
· More Enemies – An army of vile new creatures is set to pour through the rifts, and they've brought all of your favorite trap-fodder from the original Orcs Must Die! along with them!
· More Defenses – Orcs Must Die! 2 has an enormous armory of new and classic defenses, including an all new assortment of magical trinkets. Use your new spellbook to buy defenses and upgrades the way you choose to, building up your arsenal based on how you play the game.
· New Upgrade System – The skull system has been completely redesigned. You will always earn skulls for replaying levels, and the skulls can be spent on multiple persistent upgrades for each of your defenses.
Players wishing to add to the current 3.4 billion dead orc count can download the original Orcs Must Die! on Steam and other PC Platforms. As a special bonus, players who own the original Orcs Must Die! on PC will unlock exclusive content in the sequel.
Orcs Must Die! 2 is an action-strategy game that challenges players and their friends to team up and defend a world constantly under siege. Orcs Must Die! 2 will be available exclusively as a digital download on personal computers this summer. Players who want to get their hands on a playable version of Orcs Must Die! 2 can visit Robot Entertainment at booth 1172 during Pax East, which runs from April 6th to 8th in Boston, Massachusetts.