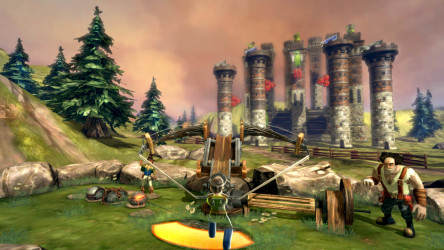 Straight from the PAX East 2012 expo floor comes a an excellent Arcade Kinect game from the fine folks at Iron Galaxy. The Wreckateer puts you at the controls of a ballista as you wreck havok in goblin infested castles. Shots fired from the ballista each have their own powers and abilities — and you control all of the action using the Kinect for Xbox 360 Sensor. The verdict? It's a hell of a lot of fun!
Posted in Games, Preview on Wednesday April 11, 2012. Read More About arcade, castles, destruction, family, goblins, Iron Galaxy, kinect, leaderboards, Microsoft Studios, multiplayer, PAX EAST 2012, physics, Wreckateer, XBLA.
Scott is an editor on Nerd Appropriate. Check out the other 350 articles by Scott on our site.