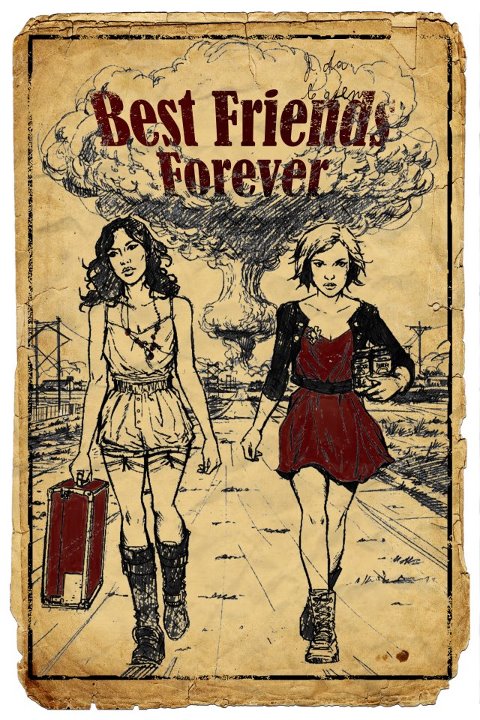 Best Friends Forever: A Post Apocalyptic Road Trip? Yes Please
Our buddy Brea Grant is expanding her already impressive resume' of actress, writer,  and historian, to inclue the title of "director."   Who is this Brea Grant you speak of?  Well if you're really curious,  click HERE to read an informative interview we did with her last year.  If you're not in the mood to click, you may remember Brea from her roles on Heroes, Dexter, Friday Night Lights, or maybe as the author of IDW's awesome zombie romp We Will Bury You.  As if she didn't have enough going on, Brea is working on directing her first feature film Best Friends Forever, and she needs our help finish it up. Shot on glorious 16mm fim, a rarity in our digital age, BFF won't be cheap to finish, but the final product will sure look pretty.  Check out the pitch below from BFF's Kickstarter page and be sure to donate whatever you can spare!  After all, even in the wake of an apocalypse, everyone still needs a best friend…
Info from BFF kickstarter
BEST FRIENDS FOREVER is a dark comedy and sci-fi horror film, combining equal parts buddy film, road trip and nuclear apocalypse story, but with girls. Harriet, the perpetual but unsuccessful optimist, has finally figured out how to take her passion for comics and turn it into a responsible life. But when she and Reba, her seemingly devil-may-care best friend, hit the road to Austin, TX, an impending nuclear apocalypse endangers the best-laid plans and even the best of friendships.
For more info, check out www.bestfriendsforeverfilm.com!
WHY YOU SHOULD SUPPORT OUR PROJECT
Two girls, a '76 AMC Pacer, the open road, and an impending nuclear apocalypse. Would you want to see that on a movie screen? Brea Grant and Vera Miao wrote this screenplay together, and in November 2011, with a lot of heart, ingenuity, sweat and very little money, shot all over Texas on beautiful Super 16mm film. If you love sci-fi, classic cars, road trips, desert landscapes, snappy dialogue, independent filmmaking, women filmmakers, or us, or if this just sounds like a movie you want to see, help us get closer to the editing, color correction, sound design, special effects and other technical thingamajiggies we need to bring BEST FRIENDS FOREVER to a screen near you.
Trust us, we know this is a lot of money. Everyone has heard someone say, "I made my movie for $10,000" but we'd actually like to pay the people working their asses off.
IF EVERYONE LOOKING AT THIS PAGE CONTRIBUTED SOMETHING, WE'D HIT OUR GOAL 🙂 And whether or not you can give money, please spread the word and repost!
WHERE YOUR MONEY GOES
EDITING: As much as our editor loves our movie, we feel like we should pay him. 
COLOR CORRECTION: The Super 16mm is only going to get more jaw-droppingly beautiful, yet surprisingly expensive.
SPECIAL FX: How cool is it that we get to make SFX? Think bombs, fires, and zombies (not really zombies). 
SOUND DESIGN: What does an impending nuclear apocalypse sound like? We want to know as much as you do.
MUSIC: Rihanna, Foster the People, Lady GaGa….all people who will not be in this movie. But your support will get us something even better. 
FILM FESTIVALS: Wouldn't you love to see this film somewhere near you? So would we!