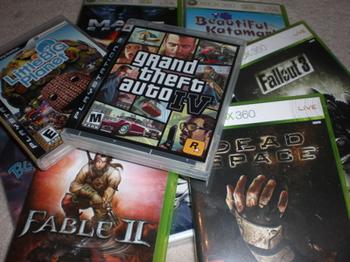 Pax East 2012: Kick Off The Con With The Pre-Pax Game Swap!
Last year Matt and I had an absolute blast at the pre-PAX video game swap party, and met some great folks too.  The concept is simple, bring a video game with you to the event (any platform wil do), and walk away another game for zero dollars!  The swap party is an awesome way to pick up a title you may have missed otherwise, AND meet like minded gamers and industry folk.  Heck, we'll be there talking video games and eating bar snacks…come say hi!  This year's event is once again hosted by Harmonix's very own Alli Thresher at the Middlesex Lounge in Cambridge (great spot).  If you're thinking of attending please head to this LINK and RSVP , we'd love to see you there. I gotta say that this is the absolute best way to kick off a long weekend of video game gluttony!
Info from the source: In town for PAX East? Boston resident who missed out on getting a badge? Living with a video game hoarder and need a clean out?  Just want to hang out and mix and mingle with awesome people? That's cool too.
This is a video game swap – just like last year you can bring your old games (any platform is cool) and trade them for new to you games. If you bring one game, take one game, you bring two, take two (or one), etc…Drop them off anytime between 5 and 6:15 and we'll get them organized into neat piles. Around 6:30 we'll get to swapping! Once everyone's traded you can continue trading amongst yourselves or browse the leftover games and take what's there.
If you want to participate but don't have games to trade or swap just bring $10 cash and you can take three games with you. Any money collected and any unclaimed games at the night's end will go to charity.
Questions? Post them below or hit me up on twitter, @allithrasher
Just a reminder too that this event is about having fun and being fair to everyone involved. Don't be that guy who bum rushes and elbows people because you want to wipe out a full section of games. Seriously, don't be that guy.