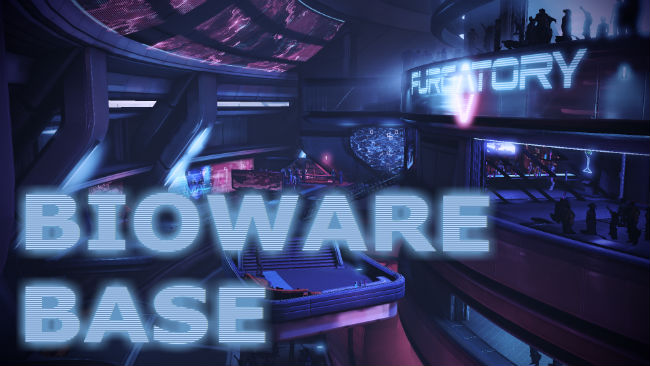 Comic-Con 2012: Bioware Base Details – Purgatory Bar Comes to Life
For the past few years Bioware Base has been one of the highlights of our San Diego Comic-Con experience, and despite last year's near fatal overdose of Pop Chips, we couldn't wait to see what Bioware had planned for the big con in 2012.  Fear not Bio-fans, this year there will be plenty of juicy Bioware goodness to satisfy all.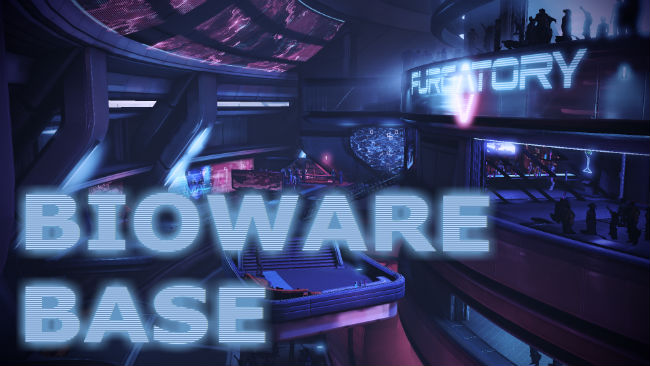 Location Info: The Bioware Base will once again be across the street at the Hilton Gaslamp.  The best part, you don't even need one of those elusive Comic-Con badges to attend the fun!  Just show up and soak up the Bioware goodness like a sponge.
Multiplayer Stations: Being huge fans of Mass Effect 3 multiplayer, we're happy to say that Bioware will be showing off their yet-to-be announced multiplayer DLC.  Will it be the leaked Earth missions?  Will we get to play as Blasto the Hanar Spectre?  We shall see… we shall see.
Signings: Have an appendage that yearns to be signed by a member of the Bioware team?  Bring it to Bioware base and get that puppy inked in Sharpie!  All sorts of folks from Bioware will be at the base over the course of the weekend, so drop by and say hi!
David Gaider:  Lead writer of the Dragon Age games and novels David Gaider will be on site to sign your goodies and talk about all things Dragon Age from 1:30pm to 2:30pm Thursday – Sunday.  See if you can get him to slip up and mention the existence of Dragon Age 3…. Don't tell him we said that.
Raphael Sbarge (Kaidan Alenko) and Kimberly Brooks (Ashley Williams) will be signing your stuff from  1:00pm – 3:00pm on Saturday.  See people confront their romance options in person!
Party and Bioware costume show:  It looks as though Bioware is bringing the Citadel's Purgatory Bar to life for free drinks and appetizers on Saturday night starting at 7:00pm. This event will also shine a spotlight on some Bioware cosplay. Jessica Merizan : Just to clarify, we're not creating a replica of Purgatory Bar at SDCC (unfortunately!!) but it will have a lovely Purgatory loungy vibe.

Inside Signings (The Dark Horse Booth):
David Gaider: writer of The Silent Grove, at 6:00pm-7:00pm Wednesday, 3:00pm-4:00pm Friday and 5:00pm-6:00pm Saturday.
Chris Hepler: writer of the Mass Effect 3 art book as well as Thane Krios and EDI.
Sylvia Feketekudy: writer of Mass Effect Homeworlds issue 4 as well as Liara and Samara, at 11:00-12:00 on Thursday and 11:00-12:00 on Sunday.
HOURS
Thursday 1pm-9pm
 Friday 1pm-9pm
 Saturday 1pm-4pm & 7pm-9pm
 Sunday 11am-5pm