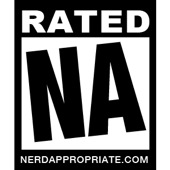 Enter October! Previously on Nerd Appropriate
Ahh October!  Witch's brew, spider webs, fall television, new video games, and a much needed drop in temperature.  Before you get too comfortable basking in the awesome orange glow of October, have a look at some of the content you may have missed during September on Nerd Appropriate!

Interviews:
Audio Interview -w- Caprica's Allesandra Torresani : We have an exclusive chat with Allesandra Torresani about everything from  Pee Wee Herman to Comic Con… Enjoy
Reviews:
Warhammer 40k Space Marine : Does this new 3rd person shooter/brawler hybrid live up to expectations? … yep
X-Men: Destiny : A brawler RPG from the folks at Silicon Knights.  Is it worthy of the X-men name?
Gears of War 3 : See why we called GOW3 the best co-op experience of all time.
Podcasts:
Episode 34: How's Your Beard ? Today we talk about WebOS will they/won't they and Samsung Galaxy S II eluding Scott's grasp. We review Deus Ex, Wipeout Kinect and the card game Nightfall. We tweet about our desert island requirements and chat about finishing games.
Episode 35: A Master's Course in the English Language – Today we learn that we have no idea how to talk but we do anyways. We discuss Star Wars Blu-ray "improvements", Team Bondi breakup, and follow up on PAX. We continue our discussion about Deus Ex, talk about Assassin's Creed multiplayer beta, Ash's acting debut in Homecoming, and the beginning of the DC 52. Then we take your twitter questions on what franchises deserve a comeback. Episode
36: We Are Sketch Comedy Gods – This week we discuss new releases, Back to the Future footwear, and boobs & sex. We review Squids on iOS, Leedmes on Kinect, we pick some new 52 and continue our Deus Ex talk. Then we take the twitter question for the week about gaming tropes and your likes and dislikes.
Previews:
Squids Mobile: Created by Ex-Ubisoft wizards, Squids looks and plays incredible.. Our mobile game of show.
Gunstringer and Hole-In-The-Wall: Can you actually shoot things using only your hands and no proper controller?
Matt's Fall T.V. Previews: Matt digs into all the new primetime shows this season.. See why we love "The New Girl".
Comics:
The New 52! : How DC's relaunch is good for the industry
Music:
Jimmy Hinson's Big Giant Circles : Mass Effect 2 Composer Jimmy Hinson drops a stellar new chip-tune album.
Allie Goretz: this time sings us the tale of Sam Weir of Freaks and Geeks fame.. She's sort of like a bard.