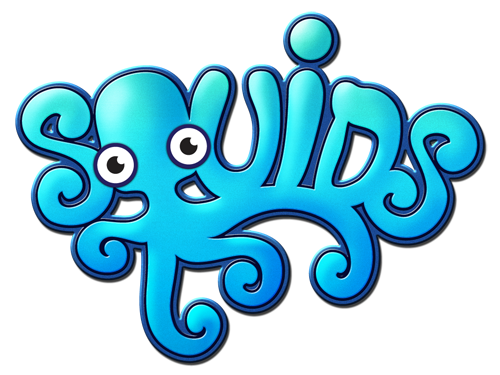 Pax Prime 2011: Tentacles on Squids! Our Mobile Game of Show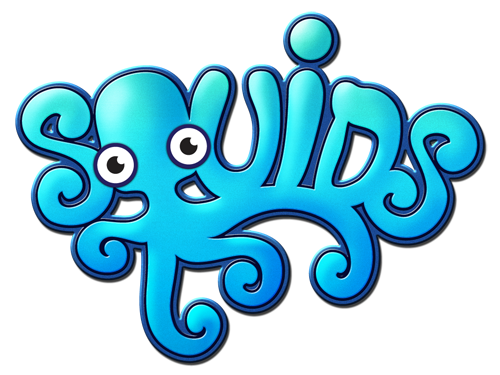 AAA Mobile Gaming?:  I challenge you to head to a local coffee shop or take a ride on a local city bus without seeing a massive number of people playing some sort of mobile game.  "Hardcore" gamers tend to dismiss mobile gaming, and often consider it less innovative and/or legitimate than console or PC games.  While there are a TON of terrible games for the Android and IOS, we're just now getting some incredibly unique software that fully utilizes touch screen technology.  At this years's PAX I made sure to check out as many mobile games as possible, and wound up incredibly impressed with a little game by the name of Squids.
Pedigree: Created by The Game Bakers, Squids has some real industry horsepower under its tiny hood. Audrey Leprince spent a long time at a little company by the name of Ubisoft and produced the award winning voice controlled RTS Tom Clancy's EndWar (which I loved). Emeric Thoa, The Game Bakers Director of Conception, also spent a nearly a decade with Ubisoft and helped create some of its most beloved titles including, Tom Clancy's Ghost Recon Advanced Warfighter, Tom Clancy's Splinter Cell Double Agent, and Rayman Raving Rabbids.  Why do I bring up Emeric and Audrey's past experience?  Well… they know what they're doing… and it shows. Also their french accents were simply awesome.
The Game Play:  Squids is heavily reminiscent of Scorched Earth or Worms in that each one of the squids at your disposal has their own unique set of abilities, strengths, and weaknesses.  As you progress through the story (more on that in a sec) you'll encounter variety of squids that you can recruit and add to your roster. Clint  for example carries a pair of six shooters that he can use to attack opponents at a distance, while Sammo has an AOE stomp ability that can heavily damage enemies in a short radius.  Like turn based strategy games of old, each one of the squids has a certain number of "move points" they can use to eliminate the corrupted sea creatures and complete the objective.  Movement consists of pulling back the tentacles of your particular squid and launching them toward their target (think pinball or pool). Enemies can be slammed into environmental obstacles, and rogue currents making the game incredibly strategic when combined with character abilities.  Your squids gain experience for battle and can level-up accordingly.  The formula is pretty simple, eliminate the corrupted sea life, complete the objective, and move on.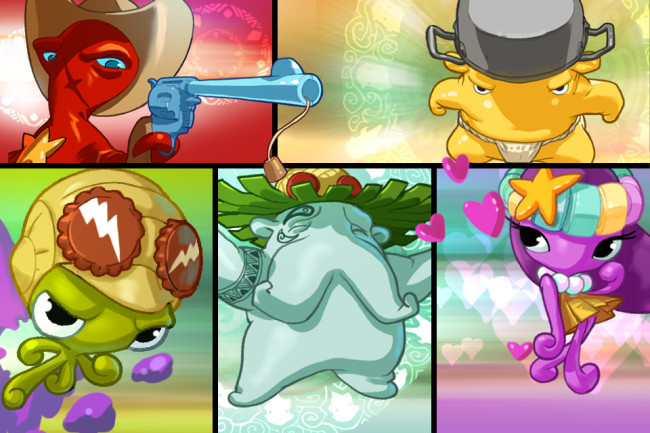 The Look: Squids is simply beautiful to look at.  Incredible Pixar quality character design infuses the game with a whimsical personality that really makes it stand out and come to life.  The few levels I had a chance to play resembled an interactive oil painting that was almost too pretty to touch.  Each squid was bursting with style and fun, they're just cool little suckers!   The look of your squids can also be customized with various pieces of loot and unlockables that all have an impact on that particular squid's look and stats.
The Story:  Believe it or not Squids has a narrative.  Your team of squids are actually a group of treasure hunters who, while out on an Indiana Jones style adventure, notice the other sea life behaving strangely.  An odd "corruption" is infecting the other sea life and its up to you to build your army and take back the ocean.  Is it "silly?" Sure!  Is it "fun?" Totally!
The Lowdown: Emeric stated that the initial release of Squids will contain over six hours of gameplay for average players.  New content including maps, characters, and loot will be added after the game's release depending on the reception of the game.  Squids will be available this coming October for the IOS with the Andriod version soon after.   While people often dismiss mobile games, it's incredible to see such a small team (six people!) working together from all over the world on a project they're so passionate about.  Their passion shows as Squids is easily our mobile game of show.