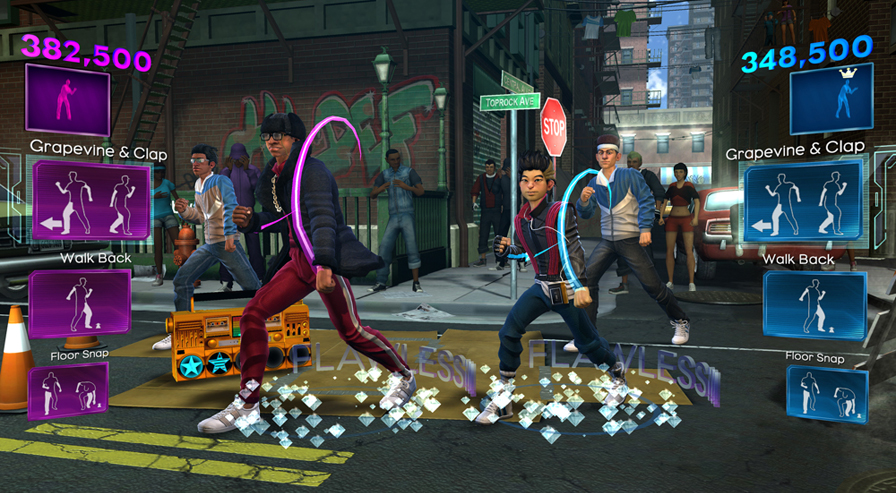 Dance Central 3 dresses classy, dances cheesy with Gangnam Style
It's been mentioned before and it bears repeating. Dance Central 3 is fun as all get-out and challenging to boot… and it just keeps getting better.
A Brief Review
The game has as much visual eye candy as ever, and the overall presentation of the game is crisp! At this point you sort of know what you're getting into with Dance Central, this installment, however, has a few pleasant surprises…
The revamped Story mode showcases the effort put into crafting a narrative around the music, one that is funny and keeps things light. And it's the right amount of narrative for a game of this nature, I likened it to the story you experience before getting on a theme-park ride. Just enough to get you excited, and not overbearing (because I've just got to dance…). And thanks to the expanded narrative, the characters that we've seen over 3 games have more soul, which makes the game more engaging.
My experience with this song list took a real turn for the better. You see, the game features songs from decades starting at the 70's. I knew there would be some classic wedding tunes and some boy-band pop that really isn't my thing (but there's clearly an appeal to the right demographic). Keep in mind that musical tastes, after all, are quite personal and specific. So there's something here for everyone, which will be great for those Dance Central parties.
Something else occurred to me too, something more important — this game is totes challenging. Even more so, I'd say, than the previous installments. Sure, it's partly because there's a natural tendency to make the choreography harder to evolve with long-time fans… but look at the range of songs in this game due to the decade thing… disco, hip hop, freestyle, pop, in addition to more modern moves. You don't just have to be good, you've got be versatile. The combination of new moves and tweaked favorites really keep you on your toes (on your toes… see what I did there?).
Dress Classy, Dance Cheesy
And this brings us to now with the recent news that Gangnam Style is coming to Dance Central 3 on November 27th. Shits gonna be cray. Today (Nov 20th) also marks the release of two additional Usher songs (Twisted and Euphoria), which is great because Usher and his choreography team had a hand in developing those routines. (Read: they're hard).
If you've been on the fence about Dance Central 3, now's the time to jump in! Make sure you don't get served… MC Hammer sure as hell won't.
Happy Gaming.