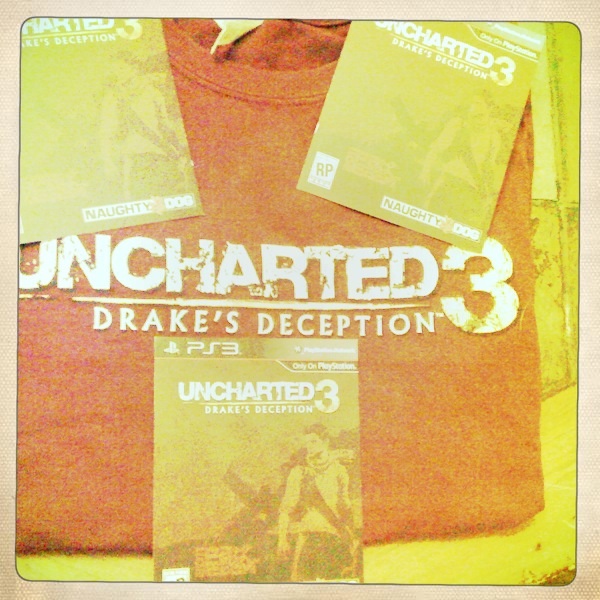 Contest: Uncharted 3 promo package (T-shirt / exclusive in-game items)!
Our last contest was a big success (so thanks)! We are starting our new contest over Twitter that's incredibly easy to enter, and very easy to win just ask @GXgear who walked away with 3200 MS points for simply re-tweeting a message and joining our nerd army.
This time around here is what you can win –
Exclusive Uncharted 3: Drake's Deception T-Shirt (size large)
Exclusive PAX East 2011: In game Pax East character skin item
Exclusive PAX East 2011: Mystery Skinned Weapon #1
Exclusive PAX East 2011: Myster Skinned Weapon #2
Dates: Contest begins 5/28/2010 – 6/4/2008
Rules:
No bots
Don't spam your friends
Enter as often as you like, but be respectful toward others
Why do these contests at all and give away our personal prizes?  Nerd Appropriate is a passion project for us.  We love working on the site and want to share it with as many people as possible. We think what we do is sort of unique in that we deal with literally everything in that could be considered nerdy from movies and video games, to technology and pop culture.  We love it all and want to share it.  Also, I must say, we've done some kick ass interviews with folks like Jewel Staite (Firefly), Alison Haislip (G4/The Voice), Veronica Belmont (Quore, Tekzilla), Brea Grant (Heroes, WWBY).. and many many more.
Retweet the following message to win
Win an Uncharted 3 prize package by joining the nerd legion! Follow @NerdAppropriate & RT this msg to enter #Uncharted3 #Giveaway #Contest