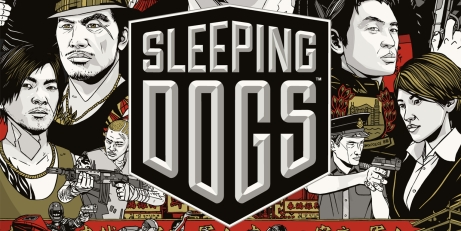 Sleeping Dogs pre-order items announced
Square Enix's recently announced pre-order items at various retailers for the upcoming open-world cop drama, Sleeping Dogs. The game had a huge presence at PAX East and looked quite intriguing. The game was originally intended to be the third game in the True Crime series, but was picked up by Square Enix after Activision passed on the title. My experience with the True Crime series was in the before time, in the long long ago, but what I do remember about the game was that Christopher Walken was one of the voice actors on the title. In my book, if that's the only thing you ever remember about a video game, that ain't too bad. I also remember the game was fun, and had in interesting combat system that included hand-to-hand techniques. I'm bet Sleeping Dogs will not disappoint.
So gaze upon the pre-order goodness below, and check out the gallery for screenshots and additional details. Get your kicks in Sleeping Dogs when the game drops, August 14th, 2012.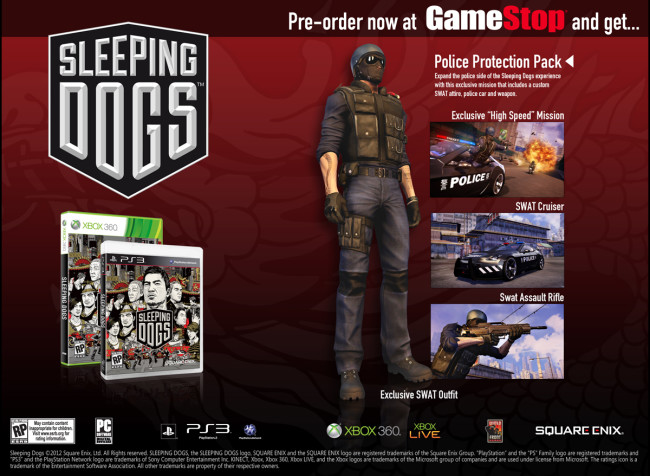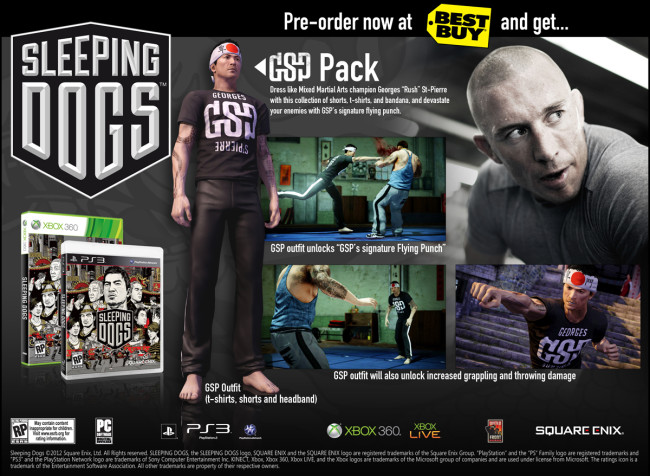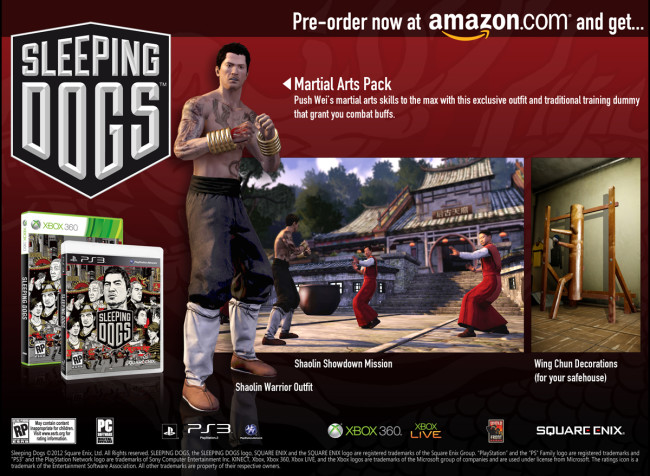 And some visuals to awaken your inner fighter:
But wait here's more:
[spoiler intro="Press Release" title="Sleeping Dogs Release Date and Pre-order packs"]
SQUARE ENIX ANNOUNCES NORTH AMERICAN RELEASE DATE AND
PRE-ORDER PACKS FOR SLEEPING DOGS
Exclusive In-Game Content Now Available for Best Buy, GameStop and Amazon Pre-Order Customers Ahead of August 14 Launch
LOS ANGELES – (April 12, 2012) – Square Enix, Inc. today announced the upcoming open world cop drama Sleeping Dogs™ will go on sale August 14 in North America on the PlayStation®3 computer entertainment system, Xbox 360® video game and entertainment system from Microsoft and Windows PC.
Square Enix is also pleased to announce North American pre-order incentives for Best Buy, GameStop and Amazon customers:
Best Buy: 'Georges St. Pierre (GSP)' Pack:
GSP's signature "flying punch"
Exclusive GSP outfit including T-shirts, headband and shorts
GSP's outfit unlocks the "flying punch" and increases grappling and throwing damage
GameStop: 'Police Protection' Pack:
Exclusive "High Speed" Mission
Exclusive HK Police SWAT Outfit
Exclusive assault rifle
Exclusive SWAT Police Vehicle
Amazon: 'Martial Arts' Pack:
Shaolin Showdown Mission
Shaolin Warrior outfit (with increased striking damage)
Bonus Triad XP points
Wing Chun decoration for safehouse (with temporary combat buff)
Exclusive content for the digitally downloadable PC version of Sleeping Dogs will be announced at a later date.
ABOUT SLEEPING DOGS
Developed by United Front Games in collaboration with Square Enix London Studios, Sleeping Dogs is a gritty open world cop drama set in the vibrant city of Hong Kong. Taking the role of undercover cop Wei Shen, players are tasked with taking down one of the world's most fearsome criminal organizations from the inside – the Sun On Yee Triad.
Offering players an island packed with action, every street corner, market stall, harbor dock or city skyscraper can become an opportunity for intense shoot-outs, adrenaline-fuelled street races and intense, brutal martial arts combat. Featuring an intuitive and imaginative combat system, Sleeping Dogs empowers players to perform an extensive set of martial arts moves, single-handedly taking on numerous opponents. Players perform bone-crushing kicks and combos, vicious counters, and a cinematic set of environmental takedowns making use of countless real-world items from circular saws to phone booths, incinerators to refrigerator doors.
Sleeping Dogs will be available in North America on August 14, 2012, for the PlayStation®3 computer entertainment system, Xbox 360® video game and entertainment system from Microsoft and Windows PC.
[/spoiler]