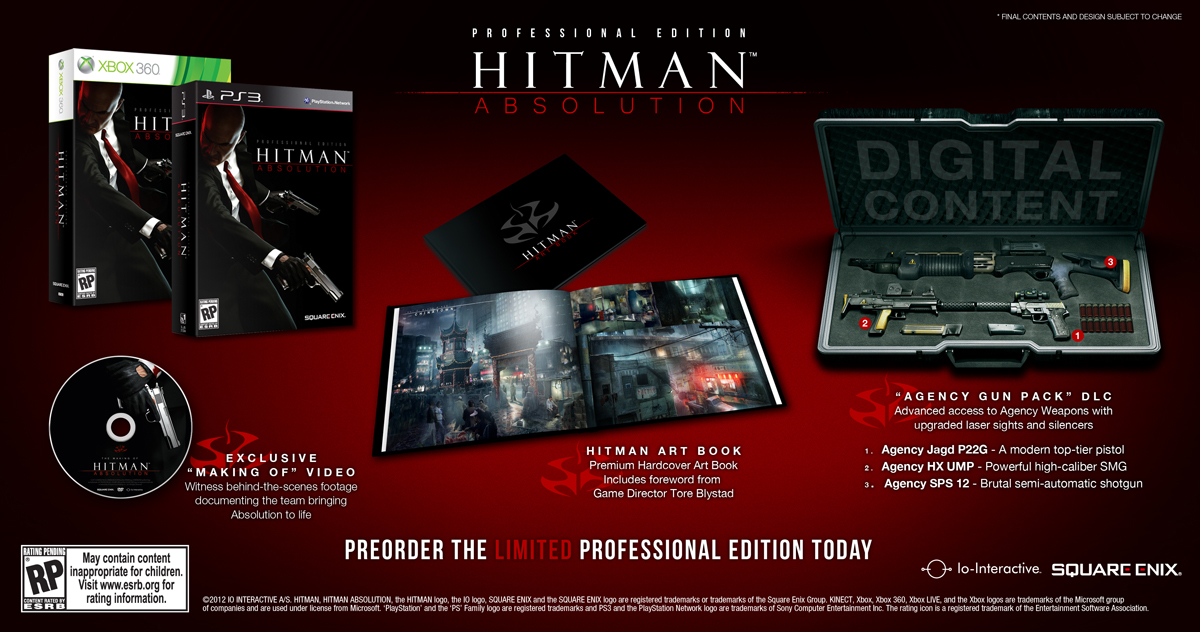 Hitman: Absolution pre-order bonuses detailed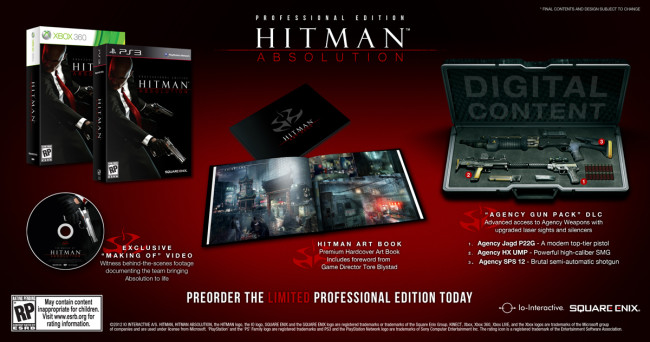 Hitman will always hold a special place in my gaming heart. Never have I so badly wanted to be a perfectionist in my approach to a situation than in this series. Don't take damage, don't get caught… It's time to relive those moments again in the newest installment in the franchise, Hitman: Absolution. Pre-orders have been recently announced including physical and digital items included in the announced "Professional Edition" as well as retailer-specific (Amazon, Best Buy, WalMart, and GameStop) weapons. Also, the release indicates that additional pre-order items will be announced in May, tantalizing!
Unleash your inner perfectionist, and feast your eyes upon these weapons:
SQUARE ENIX, INC. ANNOUNCES PROFESSIONAL EDITION FOR
HITMAN: ABSOLUTION
Exclusive pre-order programs available at Amazon, Best Buy, GameStop and Walmart
LOS ANGELES (APRIL 11, 2012) – Square Enix, Inc., the publisher of SQUARE ENIX® interactive entertainment products in the Americas, today announced the HITMAN®: ABSOLUTION™ PROFESSIONAL EDITION is now available for pre-order. The professional edition includes a premium hardcover art book with a foreword from Game Director Tore Blystad, and an exclusive behind-the-scenes "making of" video. All packaged up in a clamshell box that looks as sharp as Agent 47™ in his suit, the Professional Edition is the ultimate way to experience the living, breathing world of HITMAN: ABSOLUTION.
The Professional Edition also includes advanced access to a range of in-game Agency weapons, giving the original assassin a deadly edge over his enemies from the outset. The Agency Jagd P22G pistol will suit silent assassins, while the Agency HX UMP submachine gun and the Agency SPS 12 semi-automatic shotgun will give Agent 47 the power to fight his foes head on.
Customers can also pre-order HITMAN: ABSOLUTION at the following retailers and receive exclusive in-game weapons:
Amazon®
Bartoli Custom Pistol – An engineered precision weapon, complete with sight and silencer.
Best Buy®
Bronson 1928M SMG – A classic submachine gun with high fire rate and deadly stopping power.
GameStop®
Sniper Rifle: Agency Kazo TRG – The modern agency rifle with upgradable scope and silencer.
Walmart®
Krugermeier 2-2 Pistol – An accurate, reliable stealth weapon with a built-in silencer.
Additional pre-order items will be announced in May.
About HITMAN ABSOLUTION
HITMAN: ABSOLUTION follows Agent 47, a cold-blooded assassin, who takes on his most dangerous contract to date. Betrayed by those he once trusted — and now hunted by the police — he suddenly finds himself at the center of a dark conspiracy and must embark on a personal journey through a corrupt and twisted world.
HITMAN: ABSOLUTION is scheduled to release in 2012 for the PlayStation®3 computer entertainment system, Xbox 360® video game and entertainment system from Microsoft and Windows PC. Developed by IO Interactive A/S, a division of Square Enix Europe, HITMAN: ABSOLUTION is not yet rated. Please visit the Entertainment Software Rating Board (ESRB) website at www.esrb.org for more information about ratings.
For more information and updates about HITMAN: ABSOLUTION, please visit the official website at: www.Hitman.com.
[/spoiler]