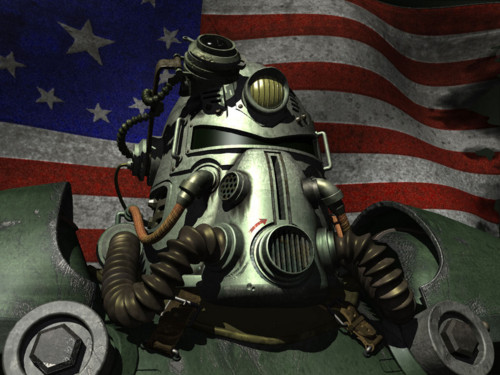 Breaking News: Fallout MMO Rights Restored To Bethesda Softworks in Interplay Litigation
Hot off the interwebs!  We just got a press release from Bethesda detailing the results of the long lasting intellectual property case between Bethesda and Interplay regarding the proposed Fallout MMO.
PRESS RELEASE:
FALLOUT® MMO RIGHTS RESTORED TO
BETHESDA SOFTWORKS® IN INTERPLAY LITIGATION
All Fallout® Intellectual Property Rights
Belong Exclusively to Bethesda
January 9, 2012 (Rockville, MD) –ZeniMax® Media Inc. today announced that a settlement had been reached in the lawsuit filed by its subsidiary, Bethesda Softworks®, against Interplay Entertainment Corporation in 2009, Bethesda Softworks LLC v Interplay Entertainment Corp., seeking cancellation of the license granted to Interplay to develop a massively multiplayer online game (MMO) based on the Fallout brand. Bethesda maintained in its complaint that Interplay had failed to meet the conditions for the license and the license was therefore of no continuing validity.
Under the terms of the settlement, the license granted to Interplay to develop the Fallout MMO is null and void, and all rights granted to Interplay to develop a Fallout MMO revert back to Bethesda, effective immediately. Interplay has no ongoing right to use the Fallout brand or any Fallout intellectual property for any game development. ZeniMax will pay Interplay $2 million as consideration in the settlement, each party will bear its own costs of the litigation, and Bethesda will continue to own all Fallout intellectual property rights. Interplay will be permitted to continue to sell the original Fallout ®Tactics, Fallout® and Fallout® 2 PC games through December 2013, after which time all rights to market those games revert to and become the sole property of Bethesda. Under the original agreement pursuant to which Bethesda had acquired the Fallout property, Interplay was granted certain merchandising rights to sell those original Fallout games, but those merchandising rights will now expire on December 31, 2013.
The lawsuit against Interplay arose after Bethesda Softworks acquired all Fallout intellectual property rights from Interplay in April 2007, and conditionally licensed back to Interplay certain trademark rights to make a Fallout MMO, provided Interplay secured $30 million in financing for the MMO and commenced full scale development of the game by April 2009. Bethesda alleged in its complaint that Interplay failed to meet either condition of the license back agreement but refused to relinquish its license and insisted it would develop a Fallout MMO. Bethesda filed suit to declare the license void.
In a separate but related matter, Bethesda commenced a second action against a purported developer of the Fallout MMO, Masthead Studios, Bethesda Softworks LLC v Masthead Studios Ltd. In the course of the original lawsuit against Interplay, Interplay had claimed that it had engaged Masthead Studios to develop the Fallout MMO under its license, and contended that Masthead was engaged in full scale development of that game. Bethesda filed its separate lawsuit against Masthead to assert copyright infringement and other violations of Bethesda's intellectual property rights. Under the MMO license granted to Interplay, Interplay was not permitted to sublicense any rights granted without the prior approval of Bethesda, approval which had never been requested or granted. In responding to Bethesda's lawsuit, Masthead denied that it had been using any of Bethesda's intellectual property in developing an MMO. Masthead and Bethesda settled that second lawsuit on December 29, 2011. In the settlement, Masthead acknowledges it has no legal right to use any Fallout intellectual property, and agrees it will not use any such intellectual property of Bethesda in the future. No payments were made by either party as part of this settlement. The two settlements resolve all pending litigation over the Fallout intellectual property owned by Bethesda.
Robert Altman, Chairman and CEO of ZeniMax, expressed satisfaction on behalf of the Company with the resolution of the two lawsuits saying, "While we strongly believe in the merits of our suits, we are pleased to avoid the distraction and expense of litigation while completely resolving all claims to the Fallout IP. Fallout is an important property of ZeniMax and we are now able to develop future Fallout titles for our fans without third party involvement or the overhang of others' legal claims."
Following the purchase of the property, Bethesda Game Studios, the 2011 'Studio of the Year' and the development team behind the 2011 'Game of the Year', The Elder Scrolls® V: Skyrim™, developed Fallout® 3. ZeniMax Media's publishing subsidiary, Bethesda Softworks, published Fallout® 3, a highly acclaimed sequel which won 'Game of the Year' honors in 2008, for Xbox 360® video game and entertainment system from Microsoft, PlayStation®3 computer entertainment system, and Games for Windows. Bethesda also published the popular title, Fallout: New Vegas®, in 2010 for the same platforms. Fallout: New Vegas® Ultimate Edition, which will include the original game and the award-winning downloadable content in one special package, is planned for release by Bethesda in early 2012.