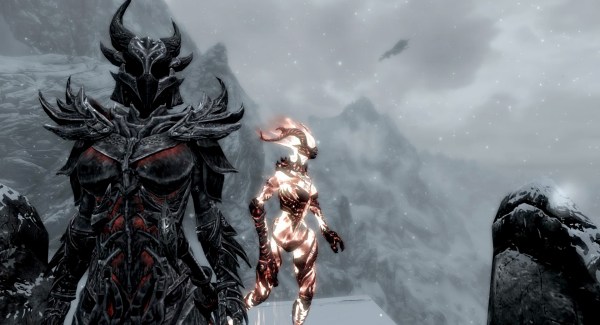 Skyrim: Saving the Best for Bad – Does Skyrim Reward Players for Being Evil?
Good to be bad?
I spent a good 34 levels of my Skyrim adventure as the spitting image of all things just and right.  By the time I had completed the main campaign, I had yet to take the life of an innocent civilian or steal a single shilling from a hobo's pocket.  Being heroic is great fun, and in games with moral decisions I typically do the "right" thing.  In the world of Skyrim my Orc brawler was already quite the hero; the Arch-mage of the College, the Legate of the Imperial Legion, the Harbinger of the Companions, and the friend to many of Skyrim's most prestigious Jarls.  When my avatar returned to the Throat of the World after the main events of the story had been completed, one of the mysterious Greybeards approached and said something that actually got me thinking.  The robed monk posed a question regarding my character's future, would I be remembered as a hero, or something far far worse…. great question.
Absolute Power
So there I was with a big moral decision on my hands.  What I soon realized is there is little to no punishment for completing some of Skyrim's more nefarious quests.  For instance, the Companions will have no idea that you've joined the Thieves Guild and will not even shake a disapproving finger in your direction no matter how much you steal.  It should also be noted that there are numerous achievements/trophies for completing Skyrim's "evil" faction quests, so unless you have a incredibly personal moral objection to virtual murder… well… kill away.  After toiling with the decision to "go bad" for quite some time I sucked it up and dove right in, and boy am I happy that I did so.  The Thieves Guild, Daedric, and Dark Brotherhood quest chains are not only the most well written quests in the game, they also reward the player with some of the most incredible items in the world of Skyrim.  Insane perks like Spectral Assassins, Dark Brotherhood followers, and the near-indestructible mount Shadowmere are only available to players that don't mind getting a little innocent blood on their tunics.  With your spouse, companions, and most other NPC's utterly oblivious to the crimes you commit there is no reason NOT to embark on these dark quest chains.  While there are dozens of quests that reward you for doing the right thing, there is no penalty for doing BOTH…  Just as long as you don't get caught.
Did you stray from your moral path in order to achieve more power in the world of Skyrim?  Please let us know!