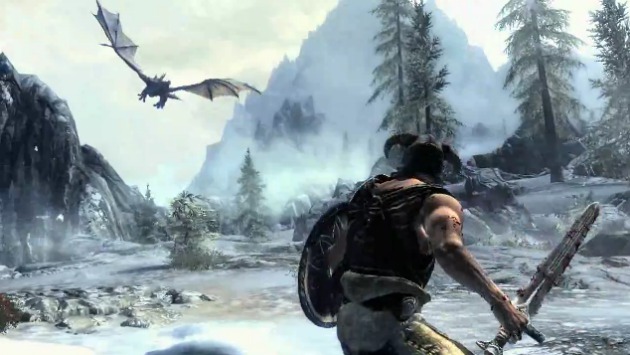 Elder Scrolls V Skyrim: Shouting It's Way Into my Icy Heart
I made a big mistake.  When I initially play tested Skyrim at Pax: Prime in Seattle this year I was a bit critical of my experience with the game.  In my own defense Skyrim is not a game that can be experienced in 20 minutes, especially with no real tutorial of the incredibly robust system that rests beneath those shiny graphics.  Tired of all the shooting that I've been doing in recent months I decided to pick up Skyrim simply for a change of pace and scenery, not knowing what I'd be getting myself into.  What I discovered could quite possible be one of the best RPG s of this console's generation.  Yes, really.
First Impressions:
My initial reaction was still fairly accurate.  As a player when you first enter the world of Skyrim there is very little hand-holding and very little guidance as to what to do.  What I didn't "get" at first was how an open narrative total freedom would make for such an incredibly unique and immersive RPG experience.  I've played virtually every open-world game on the market and can say with total sincerity that no open world game is AS open as the magical world of Skyrim.  Each and every Skyrim player WILL have a unique experience unlike any other person playing the game as one's character can be an avatar plucked from the very depths of the player's imagination.  If you'd like to play a sneaky Elven assassin, go for it!  What about a colossal Orcish deathknight?  By all means, roll one up!  With no predefined "classes" the player is free to fiddle with their creation as the game unfolds.  Many players I've spoken with have already attempted multiple specializations within the same playthrough, and with over 150 hours of gameplay… why not?
The Game:
While I'm waiting to complete the game before I give it a proper review (it may take years), I couldn't help but check in and give you a friendly word of advice, BUY THIS GAME.  With literally hundreds of hours of game-play and more layers than an Alaskan Inuit, Skyrim is a game that has the capacity to keep you occupied for months to come.  FUS RO DAH!

PRESS RELEASE
November 16, 2011 (Rockville, MD) –ZeniMax® Media Inc. today announced that Bethesda Softworks'® award-winning title, The Elder Scrolls V: Skyrim, has enjoyed an enthusiastic reception by gamers across the globe. After shipping seven million units of Skyrim for the Xbox 360® video game entertainment system from Microsoft, PlayStation®3 computer entertainment system, and PC, Skyrim's launch units are expected to generate more than $450 million in global retail sales.
 With tens of thousands of fans lining up at retail outlets at midnight on 11/11/11 to purchase the game, Skyrim continued to record strong sales following its release. More than 50% of launch units were sold in the first 48 hours and Bethesda Softworks has been receiving large reorders from major retailers in  North America, and across Europe and Australia. Online activity has been notable, with Steam reporting that in the first 24 hours of its release, Skyrim set a record with over 280,000 concurrent players, far outdistancing all other titles.
"We are grateful for the fans' response to Skyrim," said Robert Altman, Chairman and CEO of ZeniMax Media.  "Todd Howard and his team at Bethesda Game Studios have crafted a very special game. Anticipation for Skyrim has surpassed any game in our company's history, and we are pleased that sales and reviews have reflected the quality and hours of amazing gameplay it provides."
The eagerly-awaited title has garnered more than 50 perfect review scores, earning praise from some of the industry's most influential and respected critics including: USA Today, G4TV, GameSpy, Wired, Eurogamer, Destructoid, GamePro, Official Xbox Magazine, Joystiq, The Guardian, and GamesRadar. G4TV describes Skyrim as "one of the greatest games ever made" and Eurogamer was one of many outlets to call it a "masterpiece."
"Without a doubt, this has been our most ambitious project ever," said Todd Howard, Game Director on Skyrim. "After over three years of development, we're finally excited to get it into everyone's hands."
Developed by Bethesda Game Studios®, the makers of the 2006 Game of the Year, The Elder Scrolls IV: Oblivion®, and 2008 Game of the Year, Fallout® 3, Skyrim reimagines and revolutionizes the open-world fantasy epic, bringing to life a complete virtual world for you to explore any way you choose.
The Elder Scrolls V: Skyrim has been rated M for Mature by ESRB. For more information on Skyrim visit http://elderscrolls.com.