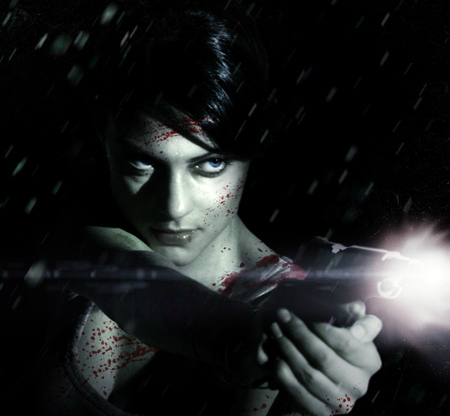 Julia Voth, Zombies, Bullets, and Blood – What is Project S.E.R.A. ?
ComingSoon.net and ShockTillYouDrop.com are showing off an exclusive preview of an incredibly mysterious short film by the name of Project S.E.R.A.. While Project S.E.R.A. won't go live until tomorrow morning, here is what we do know. Everyone's favorite gunslinger Julia Voth (Lilith, Resident Evil, Bitch Slap) will star in the 10 minute short film directed by Ben Howdeshell. According to ComingSoon.net "…a young woman watches helplessly as her father, a decorated general, is tortured and killed with an experimental biological weapon. When he suddenly reanimates in a ferocious bloodthirsty state, she must use the combat skills he taught her to escape both her captors and the creature he has become."
Why Should You Care?: Judging from the quality of the teaser below it seems like we may be in for a quite a blood splattered treat.  And I mean come on, we have our zombie slaying hero Julia Voth slaying MORE zombies… that's just awesome.