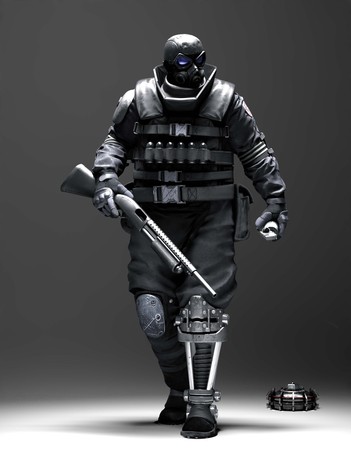 Resident Evil: Operation Raccoon City – meet the bad guys
Resident Evil: Operation Raccoon City news is creeping its way onto the net like a shambling member of the undead. Yesterday a great trailer dropped that actually shows the new cast of U.S.S. Umbrella troopers in action. I have to say I'm loving the idea of revisiting Raccoon city from the perspective of an Umbrella operative.  However, I really do think that Capcom should re-examine the concept of allowing the player to "alter the events of Resident Evil 2 and 3". Haven't we learned ANYTHING from the failed SW:TFUII DLC in which you had the pleasure of killing Han and Chewbacca?   There are very few players that really WANT to kill the iconic heroes of a their favorite franchise, unless the hero of your franchise is the midget from RE:4… or Jar Jar Binks.  Here is the trailer in all it's glory, as well as some images found on Capcom Unity.

Resident Evil: Operation Raccoon City delivers a true third person team based shooter experience set within the dark and sinister Resident Evil universe and a reinterpretation of the events depicted in Resident Evil® 2 and Resident Evil® 3. The setting of the Resident Evil universe not only provides a rich backdrop to the action but delivers a unique and thrilling triple threat battle. Zombies and Bio-Organic Weapons (B.O.W's) add to the mix as players not only compete against an opposing squad but also tackle this third unpredictable element, creating a brand new style of gameplay and breaking the conventions of traditional team based shooters.

It is September 1998 and the action centers once more on the ill-fated Raccoon City and the horrific consequences of the deadly T-virus outbreak from the Umbrella facility. With a cover up required, Umbrella orders an elite team into Raccoon City to destroy all evidence of the outbreak and eliminate any survivors. Hearing of this plan, the US Government dispatches its own special forces to uncover any evidence that exposes the cause of the viral infection and Umbrella's actions. Players take on the role of an Umbrella Security Services soldier (U.S.S.), competing alone or in four player co-op in a battle against all the competing forces at play in Raccoon City.

Expect the return of original Resident Evil enemies, iconic landmarks such as the Raccoon City Police Department and fan favorite characters, including Leon S. Kennedy, who as a rookie police officer in Raccoon City is on your hit list to eliminate. Players will experience a retelling of classic moments from past titles Resident Evil 2 and Resident Evil 3 and watch the events unfolding from the menacing perspective of the Umbrella Security Service, giving fans the chance to rewrite the history of the Raccoon City outbreak.

In addition, Resident Evil: Operation Raccoon City will deliver a number of competitive online multiplayer modes. Each one of these will provide a unique gaming experience thanks to the three way combat between the Umbrella Security Service, US Special Ops and threat of zombies and B.O.W's that could only exist in the deadly and twisted Resident Evil Universe.
ABOUT CAPCOM
Capcom is a leading worldwide developer, publisher and distributor of interactive entertainment for game consoles, PCs, handheld and wireless devices. Founded in 1983, the company has created hundreds of games, including best-selling franchises Resident Evil®, Street Fighter®, Mega Man® and Devil May Cry®. Capcom maintains operations in the U.S., U.K., France, Germany, Tokyo, Hong Kong and Korea, with corporate headquarters located in Osaka, Japan. More information about Capcom can be found on the company web site, www.capcom.com.
Capcom, the Capcom logo, Resident Evil, Mega Man and Devil May Cry are either registered trademarks or trademarks of Capcom Co., Ltd., in the U.S. or other countries. Street Fighter is a registered trademark of Capcom U.S.A., Inc. "PlayStation" is a registered trademark of Sony Computer Entertainment Inc. Microsoft, Xbox, Xbox360, Xbox LIVE and the Xbox logos are trademarks of the Microsoft group of companies and are used under license from Microsoft. Nintendo 3DS is a trademark of Nintendo. All other trademarks are owned by their respective owners. All other trademarks are owned by their respective owners.