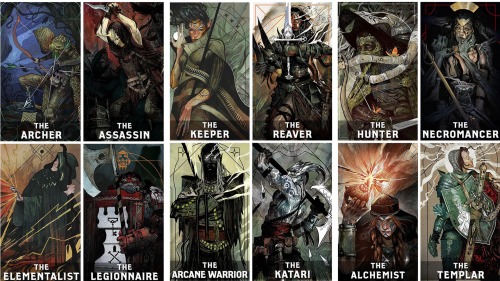 Dragon Age: Inquisition Multiplayer – 5 tips to Be Not Terrible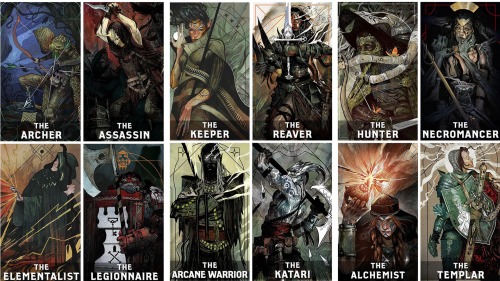 Dragon Age Inquisition. The game has barely been out for a few weeks, yet you've already played 200+ hours and are waist deep into your second playthough in order to cultivate new romances and/or explore new narrative branches. However, I would like to encourage everyone to take a look at the Main Menu again, its the one that appears just after you press Start. Before you compulsively click Continue, I implore you to review the other menu options, specifically the one that says Multiplayer. Just as we've all made that scary voyage away from the Hinterlands, so too must you be brave and explore Dragon Age Multiplayer (herein affectionately referred to as DAMP). It's time.
Of course, I poke a little fun. But DAMP is a blast, and even better with a group of friends. We had a chance to get a sneak peak at PAX Prime and talk to a few of the folks that have built out this awesome experience. I have also had some narrow successes and colossal failures with the full experience. In short, DAMP is challenging, especially when you're starting out. While I do not claim to be awesome at it myself I've adopted one simple mantra: Be Not Terrible. To that end, I've come up with five basic principles to help get you on the path to success in DAMP. So without any further ado…
1. Get in the right head-space. 
What's great about playing a lot of games is that you build up a lot of meta-knowledge that transfers from one game to another. Its part of the reason why we don't need game manuals anymore… we just load up a mental model and start playing (sort of like the Matrix). What is a mental model, you ask? Mental models are knowledge frameworks that guide your understanding of how a system functions. Of course, you can load up the wrong mental model and struggle mighty. Case in point, DAMP is not ME3MP, and its' not Gauntlet, and should not be played as either (but folks do this anyhow). Standing in a group of enemies holding the attack button will end in your early demise and the frustration of your teammates (looking at you, Legionnaire). Remember how tactically you approached single player combat? Do that. Sounds simple, but you'd be surprised.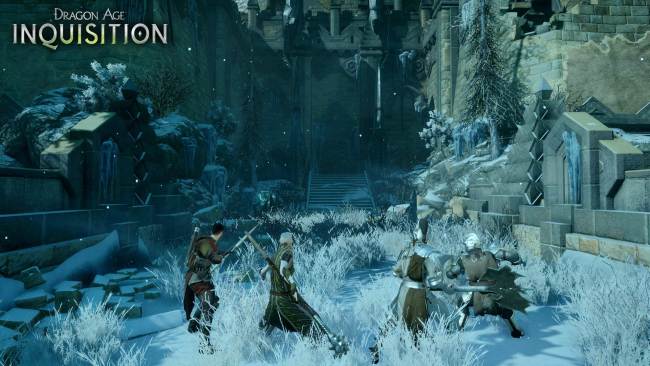 2. Everything is shared.
EVERYTHING. Coins, XP, and Loot Cards. To reinforce tip #1, there is absolutely no need to be the first to reach a chest, to bust open a vase, or to kill an enemy. You might feel that need to run off and crush as many enemies as possible. Someone will inevitably do these things, just make sure its not you. Take your time, stay by your teammates, and use the D-Pad to call out secondary doors leading to bonus loot. Sure, running off might get you sweet kill streaks in game, and medals at the end of a match, but the rewards associated with an overall team victory far outweigh the need to finish in the top position.  Which leads to…
3. Live together, die alone.
Seriously, you can revive teammates when one falls, but trouble adds up quickly. If one player falls, then another needs to go revive them… instantly you're team is now operating at 50% capacity. Fall three times, and you automatically bleed out. Oh, and the enemies get stronger with each player that falls. So maybe take a break every once in a while to hang back and let your fully healed teammates (looking at you, Assassin) finish off those last few enemies in the stage 75% > 50% yay, maths!). There's a healing station after each round, just get there (also, see #2). Save your revive chances and potions for the 5th stage, you'll need them there more than anywhere else. Maybe try a Barrier instead every once in a while (looking at you, Keeper). How else can you stay out of trouble? Well…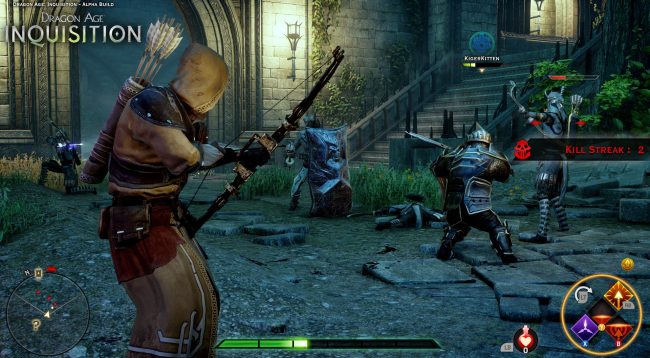 4. Look at the skill trees, have a plan.
You may be tempted to unlock as many activated abilities as possible. Let's face it, they look cool, and it gives you something to do other than standing in one place, holding down the attack button (looking at you, Archer). However, each of the two skill trees available to each class has a veritable cornucopia of passive and second-tier abilities that will greatly influence your success in battle. Read each description when building a new character, and find synergies that will work for you. I'm fairly certain its possible to make a build with only passive abilities and wreck shop. It's may not be sexy, but winning is pretty hot too, amiright?!
4a. (BONUS TIP) Offense wins games, defense wins championships. 
Speaking of non-offensive abilities: combat rolls, evade, and barriers. Remember what I said about staying out of trouble? This is how we do it (looking at you, Montell Jordan). All four players should not be constantly attacking. You might ask yourself, why would I drop a Point into Fade Step when I could do some awesome Chain Lightning instead? Well, for starters you'll probably live longer, and the second tier of Fade Step (Frost Step) allows you to freeze enemies when you run through them. How about combat rolling into a flanking position for greater damage? And to reiterate, I'm convinced there is no better way to gain the love of your teammates by casting a Barrier every once in a while…. seriously… cast it … takes you two seconds, and could save the whole damn team. =)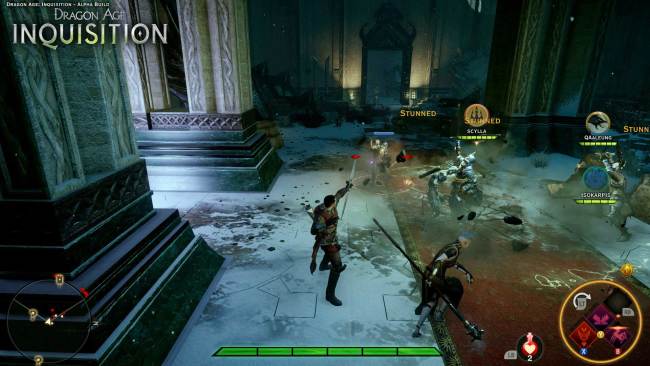 5. "No one will remember you for your failed frontal assault."
This cheeky little tip frequently appeared on loading screens in DA:O, it's still true in DAMP. The final stage of the round is sort of like a horde mode with a boss to defeat. Don't be that person to rush solo into battle (looking at you, Reaver), and DO NOT wait for the horde to come to you. Stay in one place long enough and the team is quickly swarmed by enemies and defeated. Although, with four people who don't really know one another that's usually what the strategy is. [Alternatively, some players have also recently started standing in the door leading to the final map in an effort to bottleneck the horde (like the old "fort kick ass"). It doesn't always work, and will probably be patched out anyhow.] Instead, try fighting on the move around the map edge. If you can, kite the horde around while picking enemies off. Watch your back too, as enemies will frequently appear behind you. Maintaining situation awareness with the mini-map is key (and judging by the number of secondary doors missed I'm convinced not everyone looks at the map). If all else fails, just try and stay with your group, but don't clump together unless you want a tree-creature to AOE strike your team from underground. That's a bummer.
Hopefully these tips will get you out of the Hinterlands all the way into the multiplayer side of the game. DAMP is a ton of fun, and a little teamwork will go a long way towards victory. And Victory leads to more coin, which leads to more/better loot, which leads to crafting better gear and unlocking more characters (looking at you, Arcane Warrior). Got a DAMP tip? Insert it below… wait… that wasn't… er… and remember, Be Not Terrible !