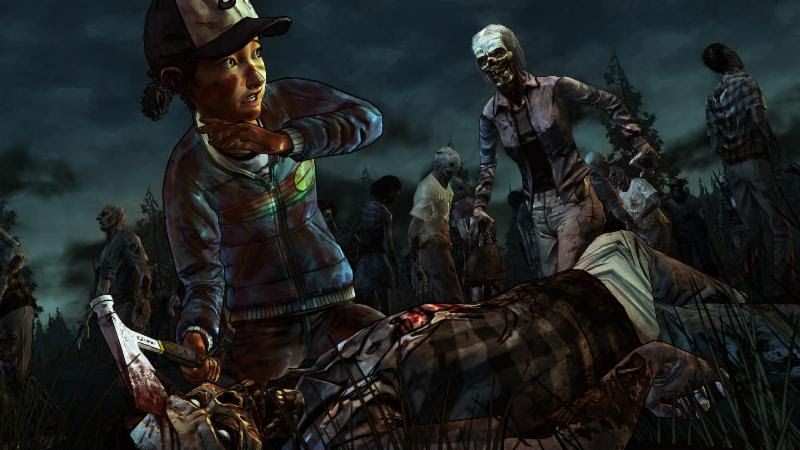 Walking Dead: In Harm's Way – Terror at the Strip Mall
"In Harm's Way" (Season 2, Episode 3) is the latest, and perhaps the most cerebral, entry into Telltale's award winning Walking Dead franchise. This review will be drenched in *SPOILERS*, so you've been warned.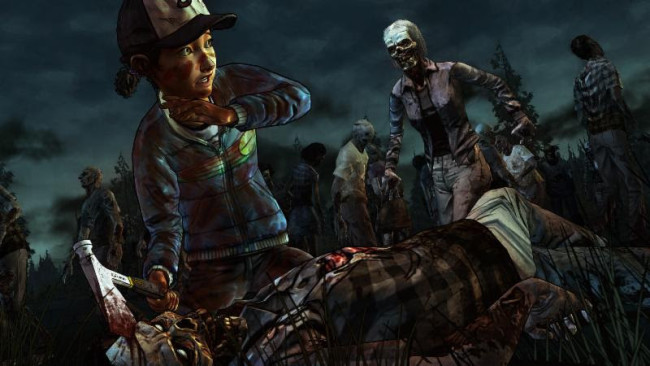 "In Harm's Way" takes place moments after the tragic events of "A House Divided" with Clementine and the rest of the survivors en route to Carver's dilapidated strip-mall headquarters as prisoners. Bright side? At least they have a comic shop.
Carver, voiced by Michael Madsen, is a complex villain who uses fear to maintain order over the unfortunate, reluctant members of his group. At first glance Carver's camp doesn't seem all that bad, until we get to see what happens when simple rules, like talking out of turn, are broken. Life in Carver's camp is tightly controlled with each citizen doing their fair share of labor for the greater good of all… They even have a functioning green house! Weakness, doubt, and low productivity are simply not allowed, and the results of messing up can be drastic. Carver's strip-mall may provide the illusion of safety, but at the cost of freedom.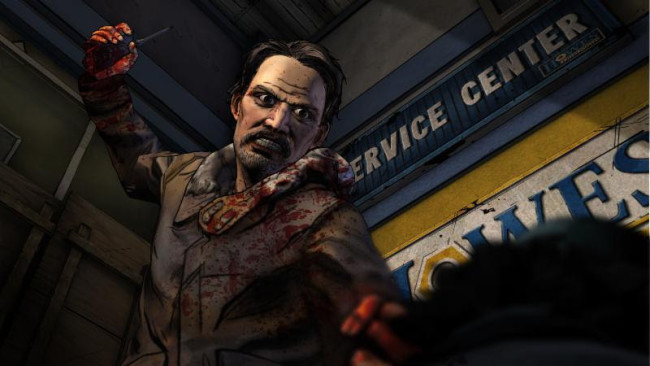 "In Harm's Way" takes its time to build up Clementine's relationships with the other survivors who are all stuck together in Carver's makeshift strip-mall prison. As a lead character, Clementine continues to grow and change in interesting ways, and for the first time the other survivors view her as an entirely capable member of the group despite being only 11 years old. In order to aid in what could perhaps be the worst escape plan in zombie-apocalypse history, Clementine is tasked with a variety of missions that have her sneaking around camp, climbing ropes, and pulling off her very own walkie-talkie heist. Clementine saves the day more than once in this installment and the other survivors, Carver included, realize that Clementine is something special.

Some players might be turned off by the fact that there are only a few, albeit very well executed, action sequences in "In Harm's Way," but the ones we do get are great. The escape sequence near the end of the episode was chaotic, insane, and honestly one of my favorite action moments thus far. In terms of gore and violence, "In Harm's Way" has one of the most brutally violent scenes in the entire series, if you choose to watch. Carver's execution by Kenny's hands plays out with such gruesome detail and gut-wrenching clarity that I almost turned away… almost. I hated Carver, but did I hate him THAT much?
"In Harm's Way" was an incredibly dark chapter in Telltale's Walking Dead franchise and I do have to say that this episode also got me a bit concerned about person that Clementine might become by the time apocalypse runs its course.