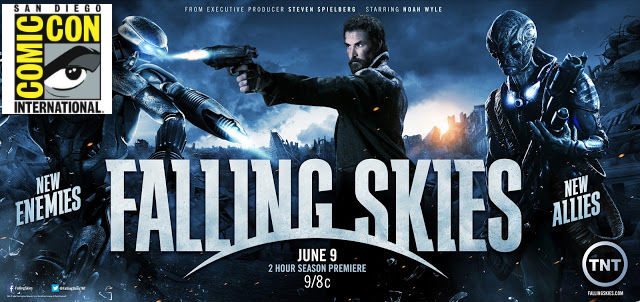 Comic-Con 2013: Falling Skies Panel – Skitters Took my Baby!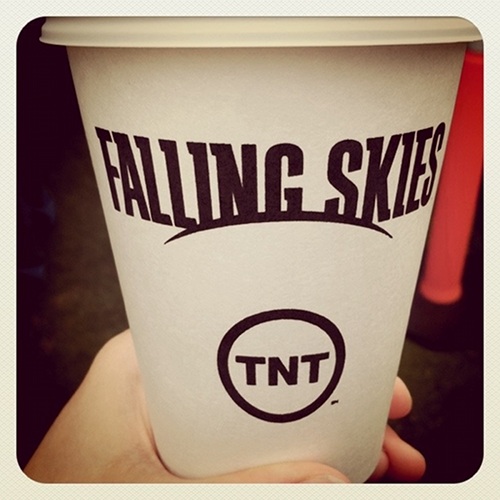 Falling Skies won me over at Comic-Con a few years back by giving me a promotional cup of coffee months before the show initially aired. Apparently free coffee is the key to my icy heart because I've been a fan and supporter of the post-apocalyptic alien drama ever since. Falling Skies follows the Mason family after the events of an especially deadly alien invasion. It's sort of like Walking Dead, but with mind snatching aliens instead of walkers. Note to other upcoming shows… Give Comic-Con attendees free coffee.
The cast and crew attended this year's Comic-Con mid way through filming their third season and had some jaw dropping footage and stories to share. In attendance this year was Noah Wyle (Tom), Moon Bloodgood (Anne), Connor Jessup (Ben), Drew Roy (Hal) ,Colin Cunningham (Pope), Sarah Carter (Maggie), Doug Jones (Cochise), executive producer Remi Aubuchon, and director Greg Beeman. Moderating the panel was Wil "don't be a dick" Wheaton, who brought a lot of laughs and positive energy to the panel. The panel's chemistry was great, and everyone up there clearly had a lot of respect for one another. Notably absent from the panel was series regular Seychelle Gabriel (Lourdes) which may not bode well for her character's future on the series.
Panels are great fun when the cast and crew are enthusiastic and excited to be there, and there was plenty of energy on display during this year's Falling Skies panel. The cast seemed genuinely touched by all the love in the room and gushed to one another on a number of occasions about how lucky they felt to be on such a well received show. Quite possibly the biggest revelation was the fact that much of the current season was written around Moon Bloodgood's pregnancy, which actually happened AFTER the pregnancy of her character Anne Glass. Moon was actually VERY pregnant during the scene in which her character Anne Glass gave birth, and someone made the joke (relating to the birthing scene), "Push!… but don't push that hard…" To which Noah Wyle replied "It's okay, I'd be there."  It's always nice to have an Emmy award nominated faux-doctor in the house. The panel went on to explain that Moon's kidnapping early in season 3 was done to give the actress time to recover from her own pregnancy. According to what we learned on the panel, the fate of Tom and Anne's mutant baby is still up in the air.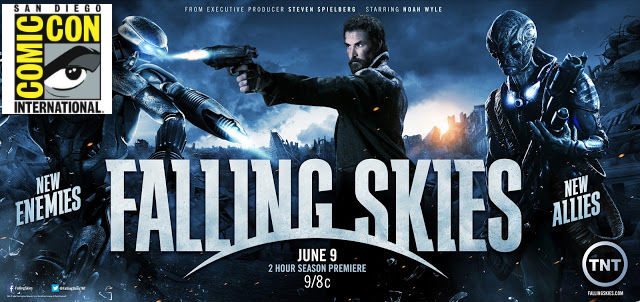 We were treated to some footage from some of the yet-to-be aired episodes in season 3 which left the audience in a state of shock. There was actually an audible gasp at one point, which I won't spoil. The rest of the sizzle reel showed a number of quick clips of the escalating alien war, the highlight of which was everyone's favorite anti-hero Pope leaning out of a train while firing a rifle with smirk on his face and a great one liner.
Falling Skies continues to improve as the series finishes up its third season and is currently the #1 cable drama with adults between the ages of 18 and 49. Fans of the series should be happy to hear that Falling Skies has already been picked up for a fourth season on TNT and will probably be back at next year's Comic-Con for some more laughs.