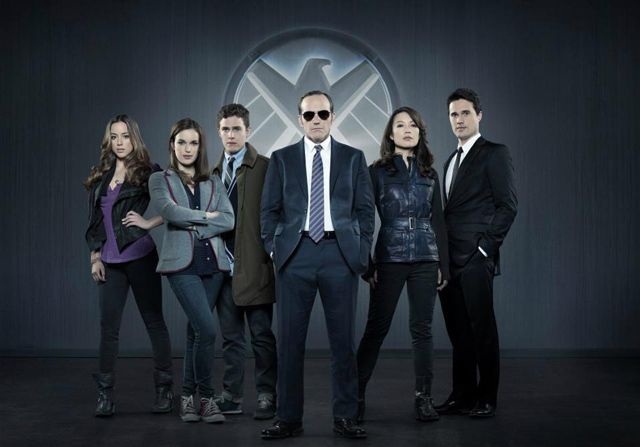 Marvel's Agents of S.H.I.E.L.D. – You're Welcome Internet
Marvel's Agents of S.H.I.E.L.D. was our idea. Yep, that's right, we thought of it way back in July of 2012. You want evidence? Fine! Check out episode 69 of Rated NA right around the 34 minute mark. Okay, we realize we're probably not the only group of geeks on the planet that fantasized about a S.H.I.E.L.D. television series before it was announced last year, but we like to feel special on occasion. We couldn't be more excited for S.H.I.E.L.D. and really feel as though it was the right decision to make for television. The Marvel cinematic universe is grounded in a reality much like our own. The citizens of the Marvel cinematic universe react to seeing super heroes much in the same way you or I would, only with much less swearing. Seeing other (lesser) costumed heroes fighting crime on a weekly basis might actually take a little bit away from the magic and wonder of that Marvel so expertly created. Having an audience experience the spectacle alongside the very mortal agents of S.H.I.E.L.D. is a brilliant plan.  The footage below looks great.
ABC :Clark Gregg reprises his role of Agent Phil Coulson from Marvel's feature films as he assembles a small, highly select group of Agents from the worldwide law-enforcement organization known as S.H.I.E.L.D. Together they investigate the new, the strange, and the unknown across the globe, protecting the ordinary from the extraordinary. Coulson's team consists of Agent Grant Ward (Brett Dalton), highly trained in combat and espionage, Agent Melinda May (Ming-Na Wen) expert pilot and martial artist, Agent Leo Fitz (Iain De Caestecker); brilliant engineer and Agent Jemma Simmons (Elizabeth Henstridge) genius bio-chemist. Joining them on their journey into mystery is new recruit and computer hacker Skye (Chloe Bennet). From Executive Producers Joss Whedon ("Marvel's The Avengers," "Buffy the Vampire Slayer"); Jed Whedon & Maurissa Tancharoen, "Marvel's Agents of S.H.I.E.L.D." pilot co-writers ("Dollhouse," "Dr.Horrible's Sing-Along Blog"); Jeffrey Bell ("Angel," "Alias"); and Jeph Loeb ("Smallville") comes Marvel's first TV series. "Marvel's Agents of S.H.I.E.L.D." is produced by ABC Studios and Marvel Television.
Oh yeah, if you want to go back and check out our article Five Things We Want From S.H.I.E.L.D. you'll see a few items have already been crossed off that list. You're welcome internets.
Again, before the internet punches us in our face holes… We're KIDDING! We understand that the blogs we write have little to no influence on the space/time continuum..