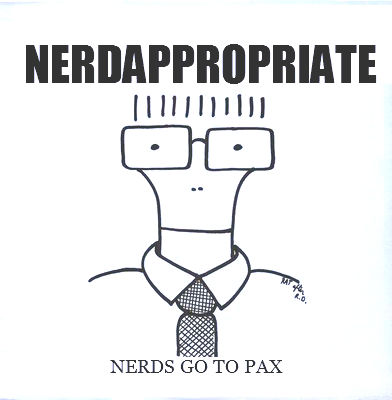 Nerd Appropriate Heads to PAX: East 2013
Round three, FIGHT! PAX: East 2013 has arrived and we will be reporting on all madness that Boston has to offer. With a light layer of snow on the ground, PAX is already looking a lot different this time around. This year, the entire NA team (Scott, Hilary, Matt and myself) will be in Boston covering the event, and we'll do our very best to show you all the great stuff that some of the bigger outlets forget to mention. We've said it before, but the Penny Arcade Expo is one of our absolute favorite cons and we can't wait to share our adventures with you.
In 2013, we'll be bringing you MORE inside information than ever before, with honest looks at upcoming games, chats with developers and talent, and some of the best cosplay you've probably ever seen. We're booked solid for all three days and will have some great stuff to share with you all.  
If you happen to be in Boston for PAX send us a tweet and let us know  (@NerdAppropriate).  We'll meet you on the convention floor and do five hour energy shots with you or something.
Bioware Base: Drop by the Bioware Base in room 206 AB and say hello to our very own Hilary who will be there all weekend making sure nobody gets too crazy with their omni-tools. Who the heck is Hilary?  She's blond and tall.  Did we mention that we'll also be creating podcasts of all of the Bioware panels this year?  Well we are! Keep your eyes on the site for some more info about how to listen.
Foreplay: Romance in Games: Finally, join Hilary and friends this Sunday at the Corgi Theatre at 10:30am for a panel all about the sexy time.  >>>
Whatever happened to foreplay? People tend to talk (and program) a lot about sex in games and forget all about the delicious build up. But with growing female and non-traditional male consumer bases, game developers are starting to reach beyond the adolescent male fantasy. You can get hitched in Skyrim, have a steamy bath with your lady in Witcher 2, and woo a whole lot of different people in Mass Effect… and that's just the tip of the iceberg.
Moderated by Fire Hose Games and When I Grow Up's Sean Baptiste, writers Miellyn Fitzwater Barrows and Lacy Wilson from Tin Man Games' romance gamebook series Strange Loves join the hosts of the Press2Reset Transmission Podcast Melissa Kay and Aenne Schumann and BioWare Event Consultant and Rated NA Podcast host Hilary Shapiro to draw back the covers on the sensual side of games and game culture.
SUNDAY 3/24 10:30AM – 11:30AM