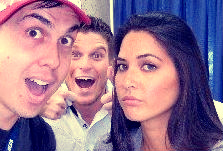 Well this sucks.  We received some sad news today that both X-Play and Attack of the Show have been cancelled following a decision to "rebrand" the G4TV network yet again.  While we here at NA weren't exactly shocked by the news, we were greatly saddened.  To the wayback machine!
Beginnings:  I've been a G4 fan since the"olden days" and used to watch TechTv way back when Morgan Webb was still "that intern" lurking off camera in the background.   One year, while visiting San Francisco, some friends and I even went to the TechTV studios to have a tour and check things out.  It was a time when TechTV was providing something that simply didn't exist on cable, and I loved it.
A decade later I found myself at San Diego Comic-Con listening to the cast and crew of X-play talk about video game journalism and how they all got their start.  While much of the panel was spent torturing interns and shaving Blair Herter's chest hair, the panel also talked about what we needed to do in order to break into the mysterious world of video game journalism.  The Answer?  Start your own site covering the things you love and create your own body of work.  While running this website doesn't provide us with piles upon piles shiny doubloons, we ARE doing what we love and have grown more than we ever really anticipated.  Oh yeah, G4 also granted us our very first interview with Abbie Heppe, which gave our site the blast of legitimacy we sorely needed to get things started (thanks Abbie and Blain).  After two years, 78 podcasts, and over 900 articles, we're still here!
Like a Phoenix: While both X-Play and AOTS may be going away forever in December, I doubt we've seen the last of the cast and crew.  I do have to say that I'll miss is seeing the X-Play posse storm into the tiny press room at PAX: Prime quite a bit.  Like it or not, the loss of G4 (in its current incarnation) is a terrible blow to fans of video games and nerd culture everywhere.  Perhaps one day we'll see everyone back together under a new name, rising from the ashes like the proverbial phoenix.  Best of luck guys, and thanks.