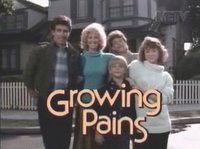 Growing Pains of The Living Dead?
I grew up watching Growing Pains, and I was saddened last year by Boner's death.  There is something magical about the intro song written and composed by both John Bettis (Lyrics) and Steve Dorff (Music)..  Imagine however if you will, what would happen if the whimsical joy Growing Pains… Came back from the dead.
This faux intro to The Walking Dead had me thinking, "How would the Seaver family fare during the zombie apocalypse?" Well I think Maggie and Dr. Jason would be just fine. They're just too normal and nurturing to let a zombie outbreak really bother them. Mike would probably rebel and join up with some anti-government biker gang, and Ben and Carol would probably become zombie dinner. Unfortunately the cast has become quite political in recent years so I don't see them giving us the parody we're all waiting for.


Baby Rain or Shine… It's Twitter Time