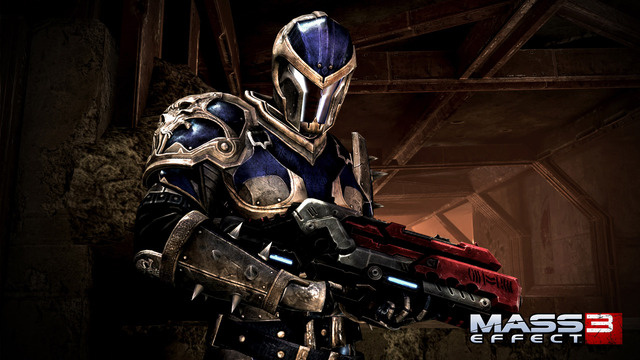 Space Knights: Bioware And 38 Studios Sweeten The Deal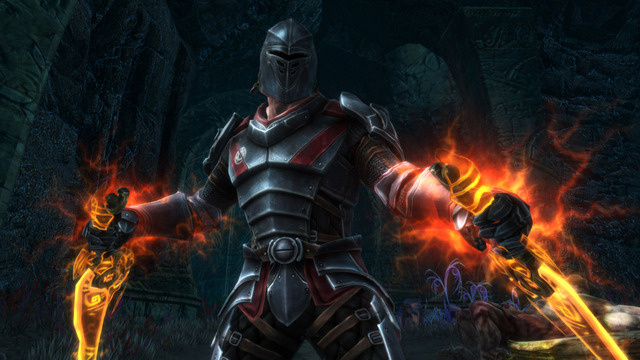 Do you need more of a reason to give Kingdoms of Amalur: Reckoning a shot? The upcoming epic RPG from 38 Studios is rumored to have over 100 hours of game play, and boasts a creative talent pool unlike anything we've seen in years (see below).  As a matter of fact, with the exception of Mass Effect 3, Kingdoms is without doubt our most anticipated console-friendly RPG of 2012.  This late in a console's cycle is an interesting time to launch a brand new epic RPG, so we're pumped to see how it turns out. As if we needed more to sweeten the deal, EA revealed early this morning that they're going to reward their loyal customers by way of some brilliant cross-marketing. Similar to their Dead Space 2/ Dragon Age 2 mash up, people that show some love to Kingdom, will receive some in game Mass Effect 3 goodies and vise versa . Check out all of the details in this PRESS RELEASE:
PRESS RELEASE: By playing the Kingdoms of Amalur: Reckoning demo, gamers will receive two unlocks for Mass Effect 3 when the highly anticipated game releases on March 6, 2012, both designed by the renowned creator of Spawn, Todd McFarlane:
Reckoner Knight Armor: This armor will maximize damage done in close-quarters combat while a beefed—up power cell feeds energy into weapon systems to increase projectile velocity.
The Chakram Launcher: This weapon uses a fabricator to manufacture lightweight, explosive ammunition discs. This weapon is earned after completing the Reckoning demo and watching the trailer at the end.
By playing the upcoming Mass Effect 3 demo, fans will unlock the following items for Reckoning when the game launches on February 7, inspired by Mass Effect:
N7 Armor: Players can unlock special armor inspired by Commander Shepard's iconic N7 battle armor including Helm, Cuirass, Gauntlets, Chausses and Greaves.
Onmiblade Daggers: A holographic blade stemming from Commander Shepard's Omni-Tool, the Omni-blade allows players to stab enemies in close combat. Once players install and play the Mass Effect 3 demo, they will unlock the daggers.
In addition to the Mass Effect items above, players who play the Reckoning demo will also unlock:
Twist of Fate Card: This card boosts the player's ice resistance and is immediately unlocked when he or she activates the Reckoning demo using his or her Origin account.
Twinned Souls Chakram: A unique weapon that damages enemies while boosting player health and mana in Reckoning.
The Infernal Helm: Unlocked after completing the Reckoning Tutorial Mode, this protective helmet increases players' fire damage throughout Amalur.
The massive world of Amalur will finally break open when Electronic Arts Inc. (NASDAQ:EA) and 38 Studios, LLC release a demo for Kingdoms of Amalur: Reckoning™ on January 17, 2012. Available for the Xbox 360® videogame and entertainment system, PlayStation®3 computer entertainment system and PC, the demo will give players a taste of the rich, diverse, action-packed world of Amalur, and will also unlock special items in the final game.
The Kingdoms of Amalur: Reckoning demo features the introduction to the game, allowing players to experience the game's Tutorial Mode and a portion of its large, open world. Players will create and customize their hero and drop right into the action. Once players master the basics, they will have 45 minutes to explore the vast world of Amalur and begin to embark upon a quest that could redefine their character's destiny forever.
In addition to the demo, 38 Studios has teamed up with BioWare to create a cross promotion to reward fans of both Reckoning and Mass Effect 3*. By playing the upcoming demos for both Reckoning and Mass Effect 3, gamers will receive special in-game items, including Mass Effect inspired, Omni-blade daggers in Reckoning and special Reckoning-themed armor and assault rifle in Mass Effect 3 designed by award-winning artist Todd McFarlane.
"We are thrilled to have the opportunity to deliver this massive one-two punch with Kingdoms of Amalur: Reckoning and Mass Effect 3. We wanted to provide fans of the Mass Effect franchise with a unique set of rewards for diving into the expansive universe of Reckoning," said Curt Schilling, Chairman and Founder of 38 Studios.
"We are excited to be collaborating with 38 Studios to bring pieces inspired by the Mass Effect universe into the world of Reckoning and to have items designed by Todd McFarlane in Mass Effect 3," said Dr. Ray Muzyka, General Manager of EA's BioWare Label and Co-Founder of BioWare. "This is an awesome way to reward our fans with unique content that not only looks cool, but also delivers some great in-game benefits."
Set in an entirely new universe crafted by New York Times best-selling author R. A. Salvatore, Kingdoms of Amalur: Reckoning is brought to life visually through the trademark visceral style of renowned artist and Spawn creator Todd McFarlane. With a sprawling explorable world and deep RPG gameplay at its core, Kingdoms of Amalur: Reckoning adds a new level of intense action combat to the genre and a one-of-a-kind advancement system as players unfold and evolve their destiny through constant character customization. Kingdoms of Amalur: Reckoning is being developed under the creative leadership of Ken Rolston, lead designer of the critically acclaimed open-world RPGs Elder Scrolls III: Morrowind and Elder Scrolls IV: Oblivion.
Developed by 38 Studios subsidiary Big Huge Games in Baltimore, Maryland and 38 Studios in Providence, Rhode Island: Kingdoms of Amalur: Reckoning will be available on February 7, 2012 in North America and on February 10, 2012 in Europe on the Xbox 360® video game and entertainment system, PlayStation®3 computer entertainment system and PC. Learn more about Kingdoms of Amalur: Reckoning by visiting www.reckoning.com or follow us on Facebook (http://facebook.com/ReckoningTheGame) and on Twitter (http://twitter.com/ReckoningGame).
*Demos may not be available in all countries.
About 38 Studios
38 Studios, LLC, an entertainment and IP creation company founded in 2006 by Curt Schilling, is developing an original fantasy IP driven by the creative and artistic visions of pop-culture icons R. A. Salvatore and Todd McFarlane. Entertainment products will include a massively multiplayer online game, novels, comics, toys, console games, movies, TV, and more. For more information, visit www.38studios.com.


Following us on twitter gives you +10 nerdgility