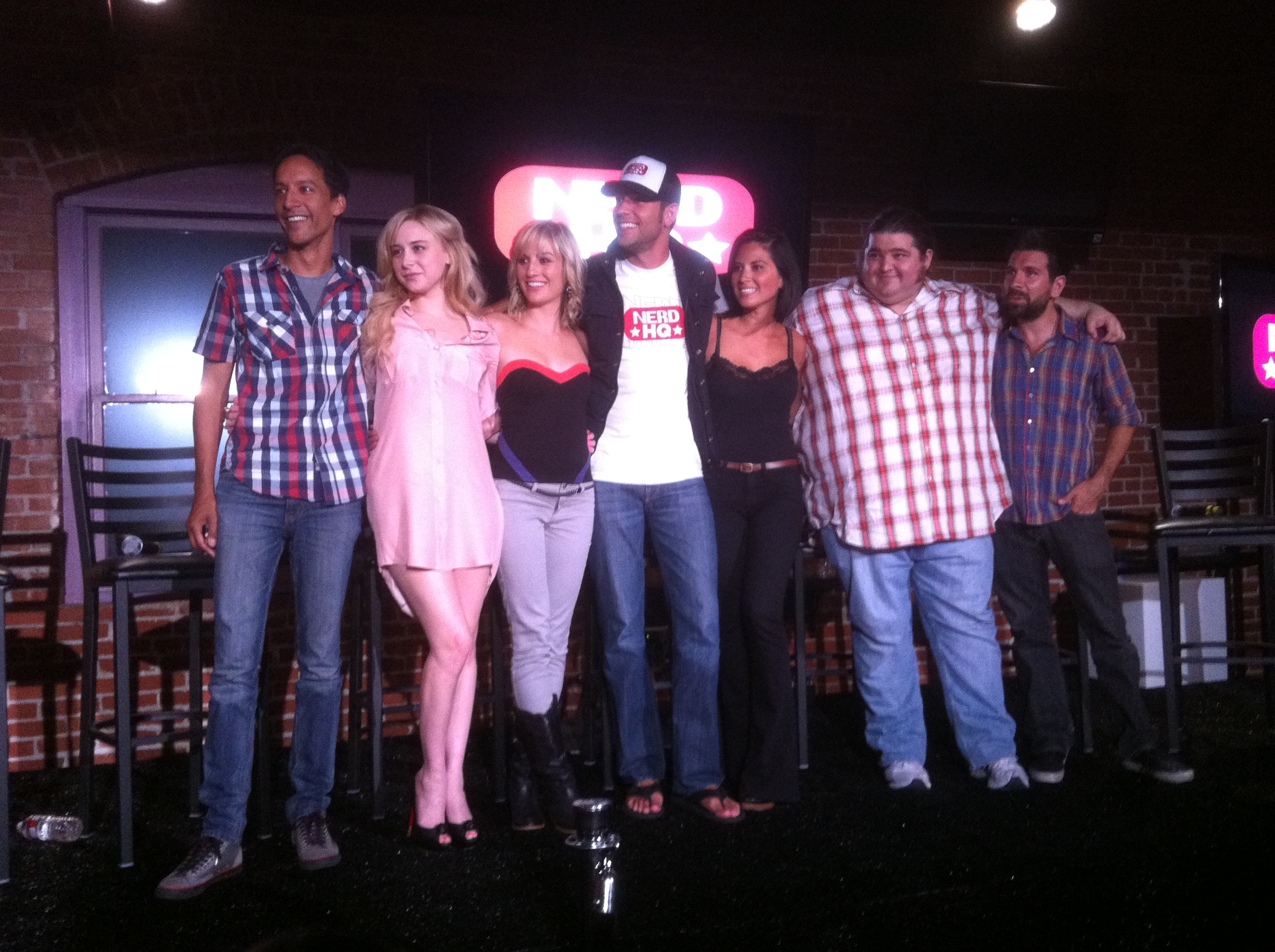 Comic-Con 2011: LOST, Chuck, Attack of the Show, Caprica and Community Walk Into a Bar…
If you've never been to Comic-Con, you really have no clue how hectic it can really be. Getting close to your favorite actors and entertainers is next to impossible.  Soon after they finish their panels they're whisked away to some top-secret green room with waiting reporters, never to be seen by your naked eyes again.  You may get a chance to shout something or wave at them as they walk by, but that's it.  When I heard that Chuck's Zachary Levi was putting on some of his own panels for charity off site, NERD-HQ, I jumped at the chance to check them out.  What I discovered was something new and genius in "con technology". Below: Danny Pudi (Community), Allesandra Torresani (Caprica), Alison Haislip (The Voice), Zachary Levi (Chuck), Olivia Munn (ex-AOTS), Jorge Garcia (LOST), Joshua Gomez (Chuck)..
How it Worked:  All panel proceeds went to charity (operation smile), and all the panelists appeared out of the kindness of their own hearts.  Honestly guys, they weren't there to plug a new project or anything of that nature, they were pretty much just there to hang out.  The event cost $20.00 (or the price of 2 SDCC Mrs.Fields cookies and 2 Cokes), and the panel was incredibly small with only about 150 people in the room.  Each seat was ticketed and numbered, and there literally was not a single bad seat in the house.  For once going to a panel was a stress-free experience, no waiting in line, no bossy security, and no jerks to be seen.
The Experience:  I wish I could write a bit more about the panel itself, but I'm running low on time (have to get back to the con!).  The Friends of the Nerdolution Panel was one of the best convention-experiences I've ever had and I'm still sort of in awe that it occurred at all.  You know when you have a really awesome dream and wake up the next morning thinking that it may have been a little bit real?  That's sort of how I feel this morning.  The panel was  an hour+ of hanging out with some of my favorite entertainers on the planet in a small room no bigger than a 7-11.  The panelists were all incredibly relaxed and were having a great time telling stories.
The Signing: Following the panel everyone gathered for a quick sighing.  I got to say hi to Alison Haislip who was cool enough to do an interview with us earlier this year.  Olivia Munn also remembered the near-death experience that was "The Running of the Munns" back in 2009.  Finally I got a chance to talk to Zachary Levi for a minute and thanked him for an incredible convention memory.  I also urged him to expand NERD-HQ and make it into the next PAX, because like E3, Comic-Con needs a smaller more intimate "little brother"
Check out some pics from the conversation: