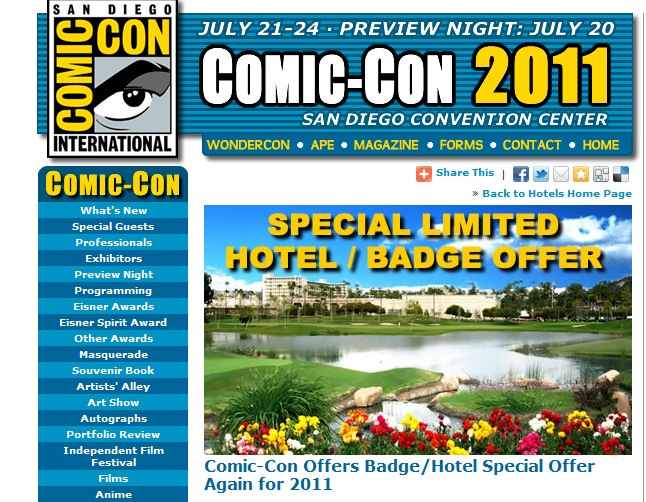 Want to go to Comic Con 2011? HURRY YOU STILL CAN!
A few years ago we were unable to get Comic Con tickets in time (they sell out in hours now). Like many of you out there we were stuck waiting for extra tickets to become available.  With some luck we were still able to attend Comic Con using the very deal they they're running now.  MOMENTS ago SDCC opened up some more 4 day passes for you to enjoy!  The catch, you have to also stay a pre-designated hotel for at least three days.  If you're on the fence about Comic Con, trust me, it will be the time of you life.  Details regarding the extra tickets can be found HERE. And hey, if you decide to go let us know,we'll hang out!
Comic-Con Offers Badge/Hotel Special Offer Again for 2011
A limited number of 4-Day badges will be available as part of the hotel stay special offer.
Like last year we expect this special offer will go fast, so get yours today!
The Badge/Hotel special offers are limited and will be available on a first come, first served basis.
Badges DO NOT include Preview Night.
Book a minimum of 3 nights at one of the below hotels in the special offer program only. Stay must include the night of Thursday, July 21st. Additional nights are available at the Comic-Con convention rate which will increase the special offer price.
Full prepayment of your hotel room is required at time of booking. Charges are non-refundable.
You may purchase one badge per person staying in your room, up to a maximum of 4 badges per room while supplies last. All guest names must be on the reservation at time of original booking. Each badge is good for one 4-day badge for entry into Comic-Con starting on Thursday July 21, 2011 – Sunday July 24, 2011. Children 11 and under are free with paid adult membership (one child per paying adult).
Adult 4-Day badges WITHOUT Preview Night are $137 per person, Junior (ages 12-17) 4-day badges WITHOUT Preview Night are $68. Travel Planners will send you directions telling your how to purchase your badges from Comic-Con within 2 business days of completing your room reservation. You must have access to the Internet and be able to purchase your badges on-line in order to qualify for this special offer.
Room reservations and memberships are non-transferable.