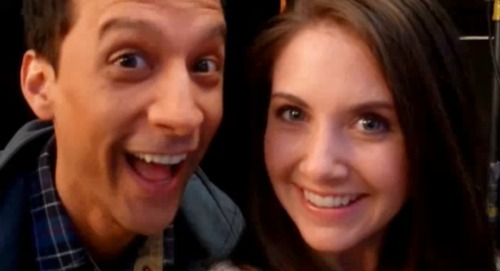 Danny Pudi and Alison Brie co-host Attack of The Show!
The editors of NA love NBC's Community as well as G4's Attack of The Show.  We always thought that combining the two would cause a rift in the space time continuum.  It was simply a maneuver too risky to try more than once.  Thankfully, we were wrong!  My friends, the nerd gods have smiled upon us!  Tonight, Alison Brie (interview coming soon…ish) and Danny Pudi of NBC's Community take over the hosting duties on G4TV's Attack of The Show!  Last year Ms.Brie co-hosted with Kevin, but this will mark Danny Pudi's first time at the helm.  Expect some amazing moments, as these two simply fucking hilarious!
When? : Tonight at 7:00 pm est (other times in other places that aren't Eastern)
Why?: If you've never watched AOTS before you're missing our favorite nightly pop culture explosion.
Who?: Kevin and Candace are out filming the "420 special" so Alison and Danny are filling in.  Cool right?
Where?: On Cable!  Check local listing for G4TV.  Sorry Direct T.V. subscribers, you don't get to watch anymore.