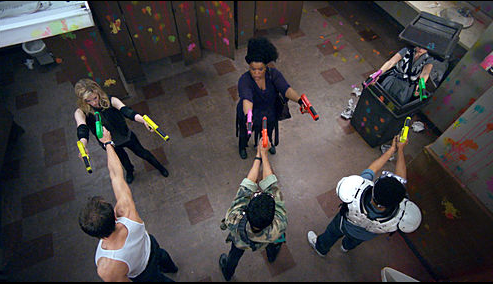 Go Greendale Human Beings! I made a list of my Community Favorites.
We've talked a lot about TV in our podcasts so far. I wanted to highlight one that is consistently one of the most offbeat, well written and highly overlooked comedies on TV. There was no better way then sharing the following clip, which, without having seen the show may seem odd and off kilter, but I think it illustrates the sense of humor the program carries over all. Also, if you're in the twitter mode, each one of these stars has a fantastic twitter feed, Donald Glover and Alison Brie are the highest recommended, but Gillian Jacobs comes in a close second…or is that third? I have no idea, I lost myself in that sentence.
As far as watching the show goes, if you don't feel like watching the entire series, well then I pity you, but I can give you a quick jumping off point. The following episodes are ranked the highest for me, all are available on Amazon, so cut the cord already and get in on the digital revolution.
Episodes you need to catch are as follows (ordered by release day):
Season 1, Episode 5: Advanced Criminal Law.
Why? Chevy Chase features heavily and is hilarious through out. The songs he writes are brilliantly awful.
Season 1, Episode 9: Debate 109.
Why? Probably one of the first time the show starts breaking down the 4th wall and truly gets weird. It is awesome though and also about when the show starts to hit its stride
Season 1, Episode 17: Physical Education.
Why? Jeff Winger (Joel McHale) in tiny gym shorts is hilarious, and the discovery of alternate Abed is icing on the cake
Season 1, Episode 23: Modern Warfare.
Why? Hands down one of the best episodes of the entire show. The school breaks down into paintball warfare
Season 2, Episode 4: Basic Rocket Science.
Why? They accidentally hijack a rocket simulator made by KFC called "Eleven Herbs and Space Experience" in an episode filled with pop culture references and vies with Modern Warfare for my favorite.
Five should be enough right? Although in reality you need to watch both seasons. I'm leaving you with the clip I teased in the beginning. Troy and Abed in the morning.
BUY THIS: Community: The Complete First Season
WATCH HERE: Community on Hulu
FOLLOW THESE TWEEPS: Donald Glover, Gillian Jacobs, Alison Brie, Danny Pudi, Joel McHale, Ken Jeong, NBC Community