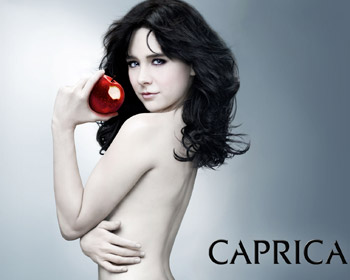 Consumers can cancel things too
It's that time of year again… no, not when department stores start putting out holiday decorations (that happened months ago). This is the time of year when fall television makes its first round of early cancellation announcements. By now, it should come as a surprise to no one that just about anything that isn't "reality" based or a procedural crime drama finds its head on the chopping block. I was somewhat surprised at the cancellation of JJ Abrams' Undercovers, but stunned to learn that Caprica will not make it past its first season. Now, after consecutive years of premature show cancellations, I find myself wanting to cancel cable all together.
I'll admit that Undercovers didn't have the sci-fi underpinnings of a show like Fringe to keep viewers interested before the token Abrams' multi-season-story-arc could really get going, but was enough of a welcome deviation (from other shows on television) to keep my support. Caprica, on the other hand, seemed like a surefire bet: a program based on a blockbuster series, seductive marketing, and a home on a channel that caters to fans of SCIENCE FICTION. What really has me worried here is this: If science fiction programming cannot survive on a channel that caters to that audience, then where will it survive? Certainty not on broadcast TV (see also Terminator: SCC, Life on Mars, Pushing Daisies, Virtuality, Defying Gravity, Firefly, and Dollhouse).
Season after season, I'm starting to feel that television no longer caters to my interests. Practically speaking, it is more emotionally gratifying to watch a whole season of a TV show through a web based service than to have something torn away from you after 6 or 7 episodes. It has been (or will be) mentioned on the Rated NA podcast, but where will fans of these niche-type shows find comfort? Can a show, like Caprica, live as an Internet-only show, partially funded by page advertisements, in-show ads, and/or even fan contributions. It works for NPR and PBS (not quite the same scope, but you get the idea).
I don't claim to have the answer to the emerging frontier of web based / internet streaming programming, but I do know this: Keep cancelling the things that I love, and I'll keep looking forward to cancelling cable television.
PS #SaveCaprica