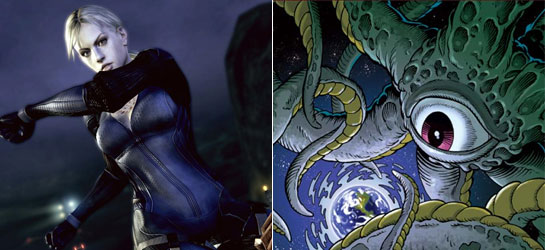 Marvel Vs. Capcom 3: Leaked Jill and Shuma Gorath gameplay clip
Interested in seeing if you should cough up raw cash next week for the new MVC3 DLC (Jill Valentine and Shuma Gorath)? If you're on the fence go ahead and take a look at how these DLC characters play before they're offically released on 3/15.  Game-trailers went ahead and posted a quick clip of these two in action so hurry up and check it out before it's taken down!
Jill Valentine – Jill appears to be a mix of Wesker and Cammy, which should please players that like speed and mobility. This is a drastic change from her MVC2 variation which played a bit like MVC3's Chris Redfield.   Shuma Gorath looks very similar to his MVC2 counterpart, meaning that he's a giant one eyed slop monster.  Having read Marvel Comics my entire life I have yet to ever actually see this character in print.