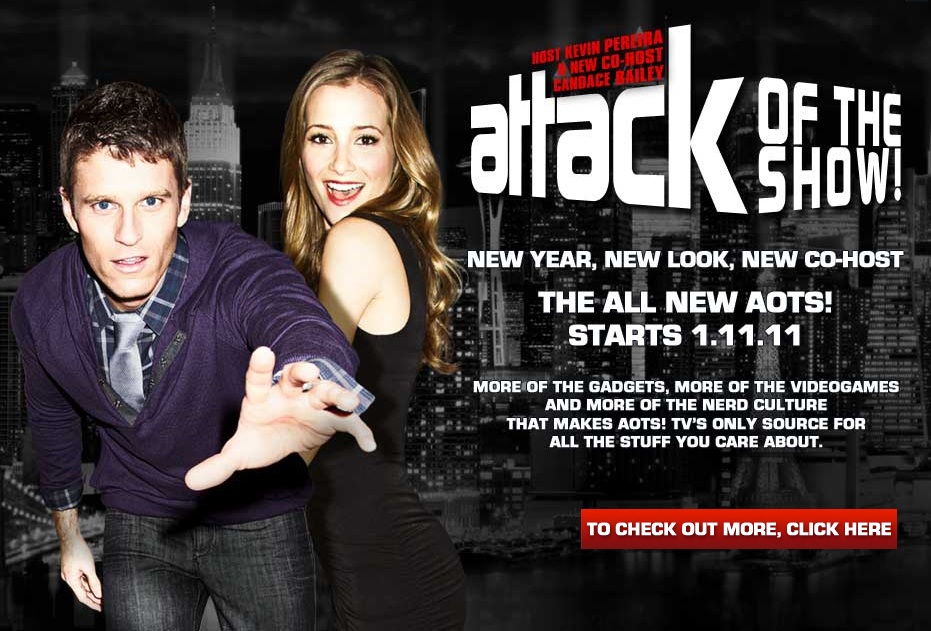 Attack of the Show: relaunch tonight – 1/11/11 7PM EST – *UPDATED -w- Info direct from G4*
I owe Attack of the Show a lot (No, G4 doesn't pay my bills or anything like that). What AOTS does do, is keep me sane. The self proclaimed "…only source for all the stuff you care about" is about to undergo a massive relaunch, and we here at Nerd Appropriate could not be more excited. You see, my line of work can be pretty stressful (there have been stabbings), and luckily AOTS is there each and every evening to help me relax with some good old fashioned laughter. There is only one show on television that manages to deliver the content that tech savy, video game playing, pop culture fanatics really crave… and that show is Attack of Show. *UPDATE* – G4 was actually nice enough to personally send us some press releases with info I wasn't yet aware of, so check them out!
___________________________________________________________
G4
New Co-Host Candace Bailey Officially Joins Host Kevin Pereira To Kick Off 2011 as TV's Only Show Dedicated to the Latest News on Tech, Games, Movies and All Things Nerd-Core for Men 18-34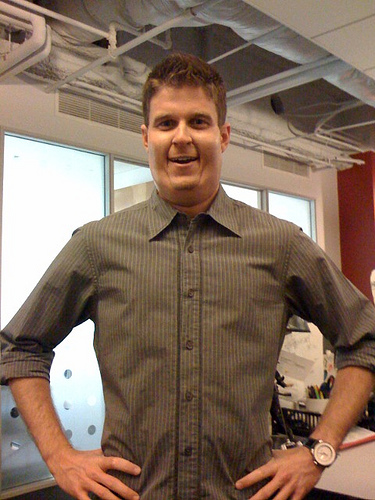 Los Angeles, CA – January 11, 2010 – "Attack of the Show!," G4's go-to show for a daily trip to the digital water cooler, switches up its look to give viewers more of what they love for TV's destination for all things tech and gaming. The always live and unpredictable nerd-culture program "Attack of the Show!" says hello to 2011 with all-new stuff – a hot new host, a blazing new set and cool-as-ice new segments. New co-host Candace Bailey inaugurates her reign of co-hosting as she joins forces with the show's long-standing host, Kevin Pereira. Together, this dynamic-duo will bring fans the latest and greatest news in tech, games, web culture, comics, pop culture and more. Collaborating with Kevin and Candace is G4's leading team of correspondents including tech guru Chris Hardwick; expert on all things extreme Alison Haislip; comic book aficionado Blair Butler; all-around nerd authority Blair Herter; sexy field correspondent Sara Underwood and movie connoisseur Chris Gore. Catch the new "Attack of the Show!" starting tonight, 1.11.11, at 7pm ET / PT.
__________________________________________________________________________________________________________________________________________________________________________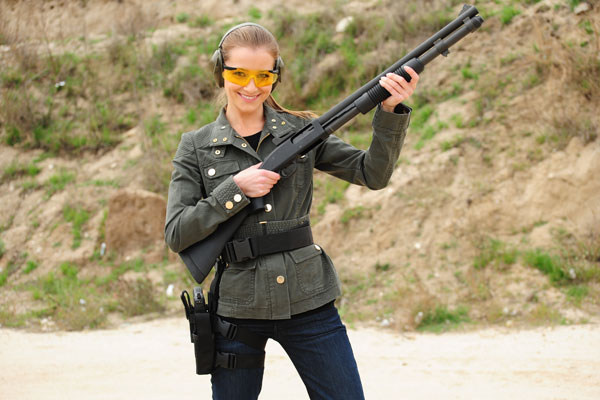 "Candace's addition and her on-air chemistry with Kevin brings new energy to "Attack of the Show!" that keeps viewers ahead of the culture curve that is constantly changing,"
said Neal Tiles, President G4.
"The new show proves that G4 keeps its finger on the pulse of the industry, giving pop culture fans the knowledge and entertainment they crave."
The new "Attack of the Show!" welcomes Candace, fresh from her 'AOTS Vision Quest' adventure that took her to the heights of nerd-core, and adds a sprinkle of new segments. All this will be capped with a completely new look for the show as our team of expert magicians has created a shiny new set for our hosts and correspondents to play in. Kevin, Candace and the AOTS Correspondents will entertain viewers daily from the set and report live from the biggest events in the industry including Comic Con, CES, E3 and more. The new "Attack of the Show!" is bringing in tons of new material to maintain its highly regarded level of awesome.
___________________________________________________________
Check out the new bigger and badder "Attack of the Show!" live every weeknight at 7pm ET / PT. Fans can also check out exclusive behind-the-scenes content and videos from "Attack of the Show!" online at g4tv.com/aots.
*NOTE* Big thanks to G4 for giving us a heads up!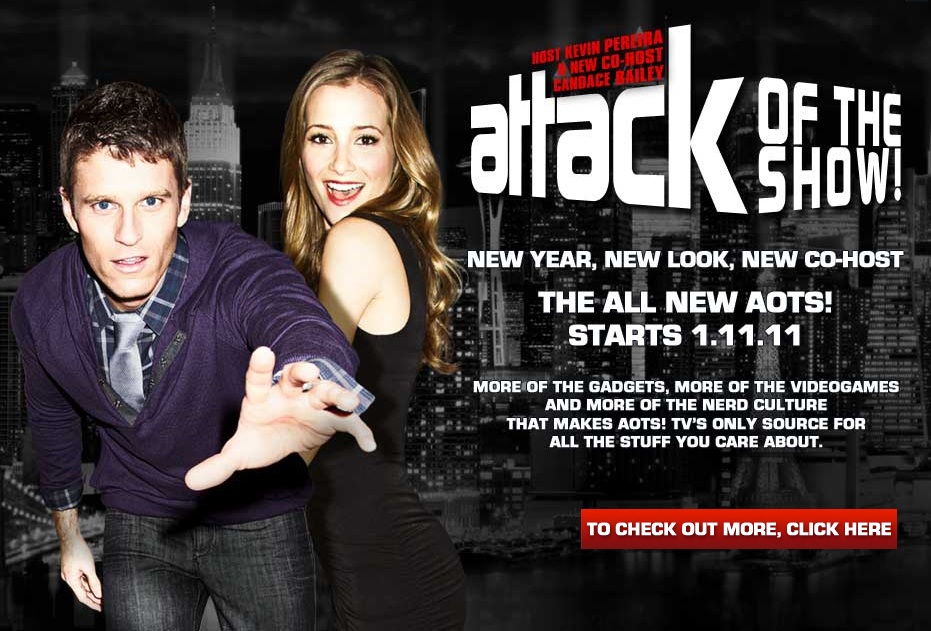 Tomorrow at 7pm EST (LIVE), Attack of the Show returns with an all new set (goodbye Carbonite Kevin), a new co host, and a whole new dynamic. So do yourself a favor and spread the world that Attack is coming back bigger and better than ever. Why not give the gift of laughter and inappropriate Portuguese penis jokes to your closest friends?