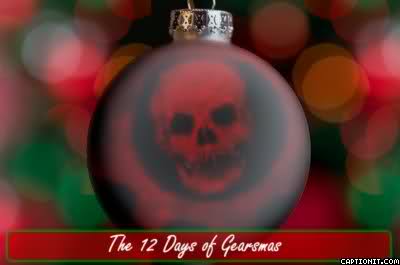 Gears of War 2: 12 days of Gearsmas event!
Horde mode is a blast, nobody can argue with that.  Love or hate Gears of War, horde mode is nothing short of genius.   Epic Games continues to award its fans with special events that alter the game-play and make old adventures feel new.  This holiday season let us celebrate with the merry sounds of grunting and evisceration, let us celebrate the 12 days of Gearsmas.
12x to 23x XP
December 22th to January 3rd

"On the first day of Gearsmas Epic gave to me, a concussion from a smoke grenade." Bringing the concuss back for day – Dec 22
2 Flaming Bloodmounts (2 Bloodmounts with Flamethrowers every wave) – Dec 23
3 Extra Clips (3 extra clips of ammo in every weapon) – Dec 24
4 Frag grenades (Frag grenade pickups have 4) – Dec 25
5 Torque Bow Tags (Many rifle creatures carry Torque Bows in Horde) – Dec 26
6 Melee Monsters (All melee creatures Horde) – Dec 27
7 Sires a storming – Dec 28
8 Old School Gears Heads (4 v 4 MP) – Dec 29
9 Boomers Booming (Boomer squads on every wave) – Dec 30
10 Waves of Tickers (all Ticker Horde) – Dec 31
11 Wretches Wretching (Wretches with Shotguns)– Jan 1
12 –  Some of the above (1, 3, 4, 8, 10) – Jan 2

~BONUS: Golden Lancer and Hammerburst for the duration of the event
I for one still love a good round of horde mode.  Not to mention there are still a whole score of achievements I have yet to get.  Anyone else planning on participating in this event?