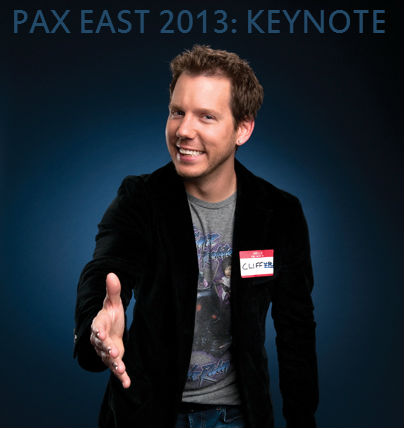 PAX East 2013: Keynote – A Personal Moment with Cliffy B
PAX East 2013 Keynote: A Personal Moment with Cliffy B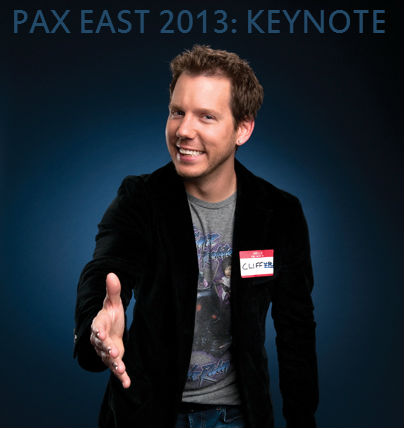 Upon arriving at PAX East on Friday morning I quickly followed the herd of anxious
enthusiasts to one of the longest lines I would wait in all weekend. After a few probing
questions, I discovered that I was in line to hear the keynote speaker of the convention,
and the more-exciting news, that speaker was Cliff Bleszinski.
Known lovingly by the gaming world as "Cliffy B", Bleszinski is known to most as the
former design director for Epic Games and for his massive body of work including the
Gears of War Trilogy.
Needless to say, upon seeing Cliffy B walk on stage, I was eager to hear what epic speech
he would inevitably deliver to introduce one of the year's most-anticipated gaming
occasions.
Right away I knew that this keynote would not have the same tone as other speeches;
Bleszinski came right on stage with a casual command of the stage that immediately
made me feel a sense of camaraderie. I've come to learn that the nonchalance of Cliffy
B is interpreted by many as arrogance; however, I felt that in this case he was breaking
down the walls of formality to build a connection with a crowd of people he could truly
empathize with. It turned out that this empathy would really be the theme of his keynote.
For the rest of his speech I would get an honest and in-depth look at the journey Cliff
Bleszinski took before becoming the Cliffy B we all know today.
From his first encounter with the Nintendo Entertainment System, to his love affair with
all things ninja (including the beloved Ninja Gaiden), Bleszinski gave a detailed narrative
including some very humorous moments (like his loathing for the unbeatable NES game
Athena) and also some very heartfelt memories.
What most moved me about his story was his honest retelling of his most-troubling
teenage moments. It is clear that some of Bleszinski's important speaking points were
his personal encounters with bullying. He recounted tales of his awful experiences while
encouraging the audience to take heed of this continuing problem within today's youth.
Another point that Bleszinski referenced was the flak the gaming industry gets by being
referenced as a supposed-catalyst for violence in schools and amongst today's youth.
Very astutely, he noted that if those accusations were valid, a gathering of gamers, such
as PAX, would be one of the most violent and dangerous places to be, and, as we all
know, quite the opposite is true. This comment was met with applause and cheers from
an audience that, quite clearly, agrees with Cliffy B.
Overall, I was very impressed with how frank and cavalier Cliff Bleszinski really turned
out to be. Keynote speeches at large events are notorious for being dry and overstated,
but these few moments into the personal journey of a gaming legend really set the tone
for what was to be a very exciting and positive experience at PAX East 2013.