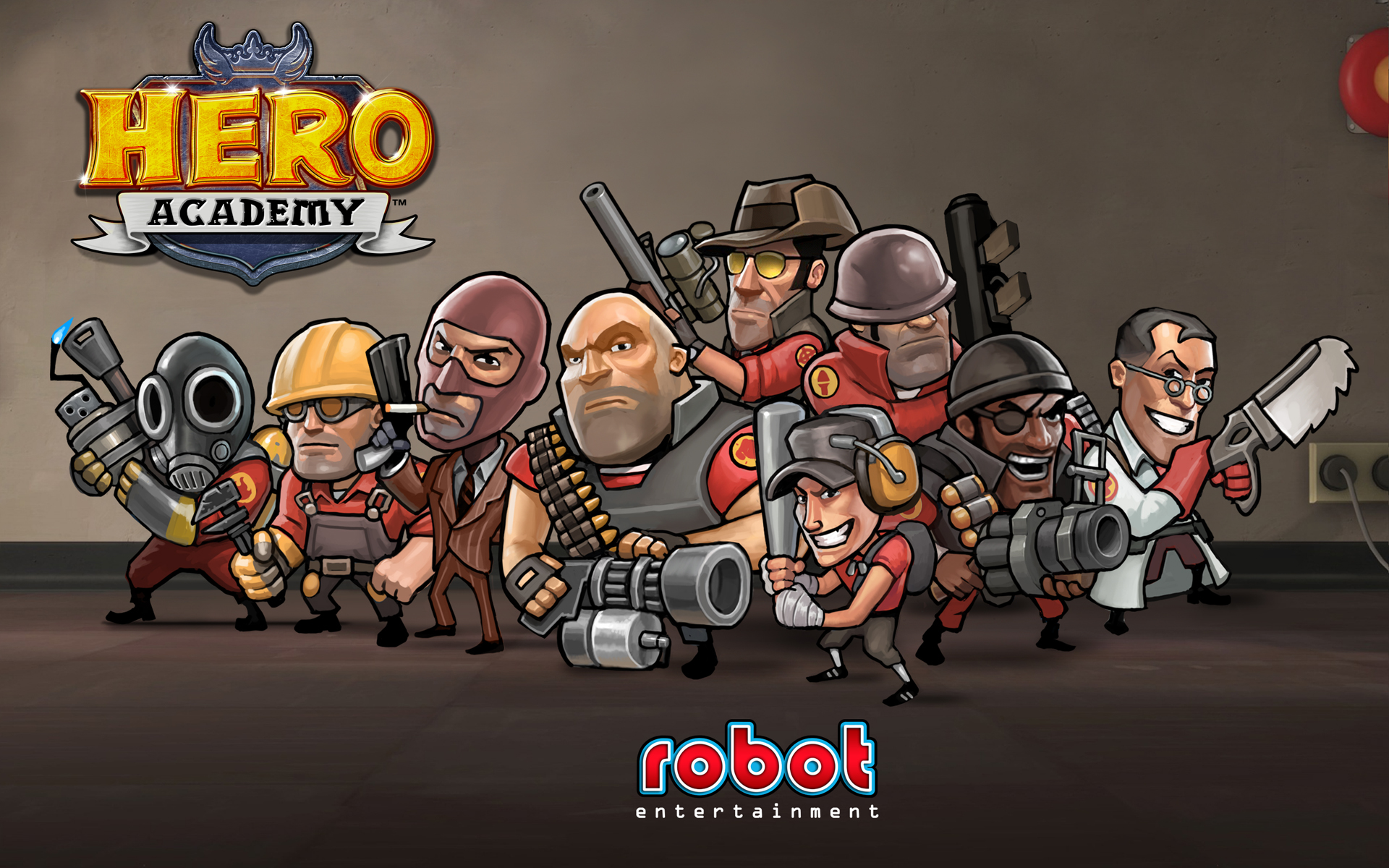 Hero Academy: Enter The Cast of Team Fortress 2?
Big news for fans of Valve, Robot Entertainment, and Hero Academy!  The Team Fortress 2 crew is joining the fray in one of the coolest crossovers I've seen in ages.  Come August 8th players will be able to download Hero Academy on their PCs using Valve's Steam service. Work productivity everywhere will undoubtedly take a nosedive. Once downloaded, players will gain access to the Team Fortress 2 gang for use on their PCs as well as their mobile devices.  How will the Sniper, Pyro, Heavy, and the rest of gang perform? We'll just have to wait and see. Check out the press release and teaser trailer below.
PRESS RELEASE: Robot Entertainment has announced that their critically acclaimed mobile strategy game, Hero Academy, is coming to Steam on August 8, 2012. Players who purchase the game on Steam will unlock an exclusive new heroic team featuring the mercenaries from Valve Corporation's wildly popular Team Fortress 2. Additionally, each heroic expansion team purchased in Hero Academy on Steam will unlock a unique item in Team Fortress 2.
"Working with Valve on this major franchise and bringing their popular characters into our world is groundbreaking in the world of gaming. It marks the first time we've seen a major crossover of characters from the PC to mobile devices and from the first-person shooter genre to turned-based strategy," said Robot Entertainment CEO Patrick Hudson. "It's a great testament to Valve as a visionary partner and their passion for giving gamers what they want."
Hero Academy Features:
· Cross-Platform Multiplayer Gaming – Challenge friends on Steam or iOS to asynchronous one-on-one battles via online multiplayer. Play a heated bout in twenty minutes or across a full day, whenever you have a few moments. Play all of your Hero Academy matches at your desk, on your iPad, or on the go with your iPhone!
· Exclusive TF2 team – The Steam version of Hero Academy includes the Council starter team and an exclusive new team featuring characters, upgrades, and abilities from Team Fortress 2! You can only unlock this team via Steam, but once unlocked you can use them anywhere that you play Hero Academy.
· Team Fortress 2 unlockable items – Each expansion team purchased in Hero Academy on Steam will unlock a unique cosmetic item in Team Fortress 2.
· Quick to Learn – Casual players can attack without mercy, while tactics game buffs will love the strategic cat-and-mouse gameplay
Hero Academy is an asynchronous multiplayer tactics game from Robot Entertainment that can be played on iOS and Steam. Featuring humorous fantasy visuals, Hero Academy is a mix of classic strategy and fast-paced casual gaming and has something for every player. For more information about Hero Academy, please visit http://www.HeroAcademyApp.com