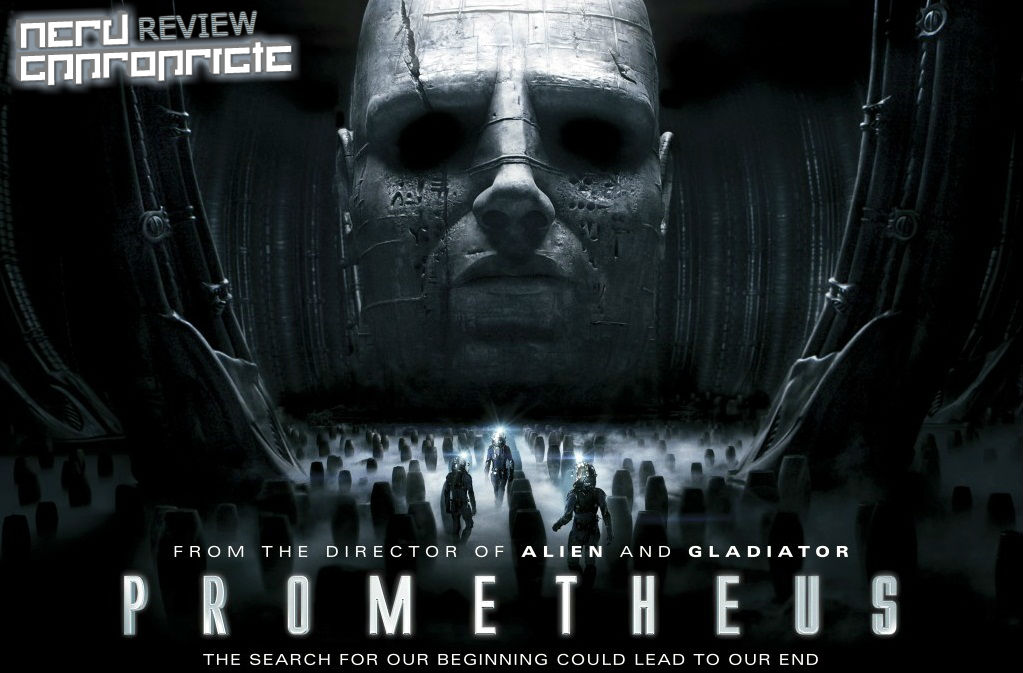 Prometheus: The Nerd Appropriate Review
Prometheus is the kind of movie for which we've all been waiting. Seeing it in IMAX 3D did contribute to the epic feeling, yes, but the movie without all that flashiness would have been just as cool. I have to say that I really enjoyed how sleek 3D made the film; it doesn't assault you by tossing stuff in your face or antagonizing you with images circling your head. Instead, it adds texture, allowing you to immerse yourself in the setting and of course the plot.  The music rumbles and sweeps you away into the dark journey you're about to undertake. Mystery and intrigue and space – oh my!
The story starts off about 80 years in the future with two researchers uncovering a secret. Well, that's not the opening scene, but if I said what really happened at the beginning, it would give too much away. So, just know the first couple minutes are thought-provoking and just plain neat.
Going back to the discovery of the researchers on Earth, the basic message is that humans are not alone and that something or someone helped us along the evolutionary path. Fast forward a couple years to a commercial space vessel in deep space using stasis technology to bring the same researchers to a planet whose solar system had been seen in cave paintings. Here's where the fun begins.
As in the tradition of the Aliens movies, there's a creepy android and a lot of gory, monster-based adventure. The acting is believable and attention-grabbing, particularly Charlize Theron who owned every scene (again) as well as Noomi Rapace who is known for The Girl with the Dragon Tattoo. A diverse team of what I'd call space cowboys, corporate drones and scientists throw you into personal conflicts, deadly sabotage and a plot twist similar to the one between Ripley and the company, Weyland-Yutani in Aliens. Be sure to look for the name Weyland in Prometheus as well. There's even a site devoted to the company you can peruse.
That actually brings me to another point. There are many "reveals" in the movie – some expected, some not all that important, but most are pretty damn awesome. The ending, for example, has me excited for a sequel. Go strong female protagonists!
One caveat though. Along with the mind-blowing cinematography, fun on-the-edge-of-your-seat scenes and interesting characters, there is a pretty gnarly part which provoked me to leave the theatre for a minute to get some fresh air. Yep. I almost passed out. I can handle horror movies and icky violence, but this particular scene struck a phobia chord. However, even with the onset of sweaty lightheadedness, I still think the scene was done well. When I looked at the faces of people around me, I could tell they were stunned, jaws clenched and brows furrowed. A few had even covered their eyes.
Overall, I give this movie 10 tequila shots for keeping me entertained, surprised and making it so believable that I became squeamish. ; )  Thank you, Mr. Ridley Scott, for bringing us more than just explosions and special effects. You are a master.
Writer. Snowboarder. Video game proselytizer. All-around nerd and animal lover. During the day, you can find Hilary working as a marketing director for an international software company and at night (where is this going?), she squeezes in as much time as possible with her Xbox or Kindle. If you feel so inclined from reading this awkward description to find out more about her, go here: www.hilaryshapiro.com or @hilaryheskett  Oh, and she is Gunny from Crabcat!